Day Shift
Full Time
Seasonal
Pay Starts: $11.00
Job ID: boi2531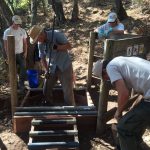 Website PersonnelPlus Personnel Plus, Inc.
Your Total Staffing Solution!
Call now for an immediate interview 208-378-8700!
Now hiring for a Trail Maintenance Assistant to work from Now until the end of October.
Shift: Monday-Friday, 8:00am-4:30pm when the days get warmer start time is 7:00am-4:30pm.
Pay rate: $11.00/hr
Trail Maintenance Assistant will be under the direct supervision of the Open Space and Trails Coordinator during multi-use trail construction and management. The duties require the ability to perform physical labor efficiently and with regard to personal and public safety. Immediate supervision will typically be provided including clear details and expectations regarding specific tasks to be performed. Once employee demonstrates proficiency completing tasks, some work may be performed independently with minimal supervision.
REQUIREMENTS
Valid Idaho driver's license.
Clean driving record.
Experience in operating gas powered line trimmers, mowers, thatcher and hedgers.
PRIMARY JOB RESPONSIBILITIES
Maintains positive customer relations with open space and trail patrons.
Assists with building and maintaining non-motorized multi-use trails and trail features in a safe manner using tools and training provided.
Utilizes hand and power tools in a safe manner.
Moves trail building materials (soil, rocks, lumber, pavers, etc.) to specific work sites in a safe manner using tools provided.
Installs, inspects, and repairs post, rail fencing, trail markers and signage.
Cuts brush and pulls weeds.
Picks up and removes trash.
Performs a variety of other manual work in connection with the maintenance of multi-use trails and open space recreation areas.
Perform related duties as required.
WORK ENVIRONMENT AND PHYSICAL DEMANDS
The incumbent is required to stand, stoop, bend, kneel, crawl, climb, and balance in tiring and uncomfortable positions.
Must walk long distances over uneven terrain while carrying tools and equipment.
The incumbent frequently carries tools and equipment and may be required to lift up to 50lbs. and push/pull up to 100 lbs.
The incumbent frequently stands for long periods of time in the heat.
This position requires working in outdoor conditions and the incumbent may come in contact with dogs, spiders, and snakes.