Full Time
Swing Shift
Pay Starts: $13.00
Job ID: boi2319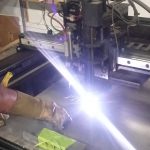 Website PersonnelPlus Personnel Plus, Inc.
Your Total Staffing Solution!
Start a career with a company that offers stable, indoor work, excellent benefits, and advancement opportunities!
Call our office at 208-378-8700 for an immediate interview, or submit resume via email.
Immediate openings for SWING shift!
Monday-Thursday 4:00pm-2:30am – Enjoy 3 day weekends!   Pay Rate: $13
Are you a highly-motivated and ready to learn? A large manufacturing company in East Boise is now hiring for an Equipment Operator Trainee. This is an excellent opportunity for a mechanically inclined individual with critical thinking skills, and a desire to learn. Must show initiative and have a team mentality. During the training process, must demonstrate the ability to use good judgment, problem-solve, plan, be an active team player, and work well with others.
The Plasma Operator Assistant oversees the cutting/ burning process including, but not limited to: Work order evaluation, machine set up, performs all cutting functions in accordance with blueprints/drawings.
Responsibilities:
–    Assist and train in the operation of the plasma table
–    Use multi-menu, multi-function machine set up
–    Load and unload materials- including use of overhead cranes
–    Meet job requirements, specifications, and timelines
–   Inspect material for quality conformance
–   Manage orders, time, and
–    Maintain equipment and work area
–    Manage time and work orders
Requirements:
–    Able to learn quickly in a fast-paced manufacturing environment
–    Ability to read and understand detailed blueprints and plans
–    Ability to follow detailed instructions and problem solve
–    Able to lift 50-75 lbs.
–    Must have strong math skills and computer skills
–   Be mechanically inclined and detail oriented