Day Shift
Full Time
Long Term
Seasonal
Temporary
Pay Starts: $10.50
Job ID: BOI2037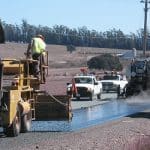 Website PersonnelPlus Personnel Plus, Inc.
Your Total Staffing Solution!
ACHD – Spring/Summer Road Crew
Crews work Monday-Thursday, 7:00am-5:30pm.
Pay Rate: $10.50/hr
Call to schedule your interview! (208)378-8700
Ada County Highway District has 7 immediate openings for their Spring/Summer crew.
Crew members will start out with Crack Seal and transfer over to Chip Seal and complete the season.
Crew members are responsible for the prep and application of liquid crack seal on public and residential roadways. Members will be using a variety of equipment such as, blowers, shovels, brooms and other hand tools to ensure a clean surface prior to the resealing process.
Crew members must be able to adapt to different learning techniques to provide quality work in a safe manner.
REQUIREMENTS:
–Must have a VALID IDAHO DRIVERS LICENSE
-Must be at least 18 years old
-Must be able to work outdoors
-Must be able to lift/carry up to 35lbs regularly.