Day Shift
Full Time
Long Term
No Weekends
Pay Starts: $16.00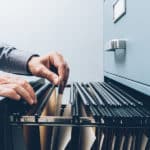 Website PersonnelPlus Personnel Plus, Inc.
Your Total Staffing Solution!
Job Description: 
Provide administrative and inventory support to a State laboratory in Boise, ID.
Primary Responsibilities:
Front Office Support
– Provide general support to office visitors
– Answer and direct phone calls and general email communications
– Assist in the development and maintenance of electronic and hard copy filing systems
– Assist in maintaining company databases, including contacts, contracts, and other documents and information
– Support staff through office tasks, such as filing, typing, copying, scanning, and other duties and errands
Receiving
– Receives and records bureau supplies and freight orders daily and files packing slips accordingly
– Verifies order quantities by matching packing slips and records items in the SharePoint system
– Unpacks and stores supplies in the appropriate areas
– Receives clinical and environmental samples for testing via couriers, USPS, FedEx, UPS, and walk-ins
– Provides appropriate sample submission forms and customer service to walk-in visitors
– Ensures forms are complete and have required information
– Uses appropriate personal protective equipment to place samples in internal transport containers
– Distributes samples to central accessioning and picks up empty packaging containers
– Sorts empty containers, packages, and ships containers back to the submitter
Shipping
– Assists with shipping large quantities of testing supplies
– Monitors the Supply Order email box and helps ship supply requests
– Compiles packages and ships requested items
Requirements/Qualifications:
-Clean background, drug-free
-Proficient with Word, Excel, Outlook, etc.
-Ability to complete and pass a Word and Excel skills evaluation
-Knowledge of general inventory, shipping, and receiving practices
-Knowledge of general office and administrative support functions
-Experience with database usage and maintenance
-Minimum of 1-year recent work experience in a similar type of position
Schedule:
Monday- Friday from 8 am- 5 pm
Please submit your updated resume for immediate consideration.
To apply for this job, send us your resume OR Email Contact information OR call 208.378.8700 OR send a TEXT MESSAGE OR visit your local office OR click the 'Apply for Job' button below