Day Shift
Full Time
Temp to Hire
12 DOE USD / Hour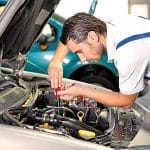 Automotive Mechanic
Job Purpose
Repair automobiles, trucks, buses, and other vehicles. Master mechanics repair virtually any part on the vehicle or specialize in the transmission system.
Tasks:
Examine vehicles to determine extent of damage or malfunctions.
Test drive vehicles, and test components and systems, using equipment such as infrared engine analyzers, compression gauges, and computerized diagnostic devices.
 Repair, reline, replace, and adjust brakes.
 Review work orders and discuss work with supervisors.
Follow checklists to ensure all important parts are examined, including belts, hoses, steering systems, spark plugs, brake and fuel systems, wheel bearings, and other potentially troublesome areas.
  Plan work procedures, using charts, technical manuals, and experience.
  Test and adjust repaired systems to meet manufacturers' performance specifications.
  Confer with customers to obtain descriptions of vehicle problems, and to discuss work to be performed and future repair requirements.
  Perform routine and scheduled maintenance services such as oil changes, lubrication's, and tune-ups.
  Disassemble units and inspect parts for wear, using micrometers, calipers, and gauges.
  Overhaul or replace carburetors, blowers, generators, distributors, starters, and pumps.
  Repair and service air conditioning, heating, engine-cooling, and electrical systems.
  Repair or replace parts such as pistons, rods, gears, valves, and bearings.
 Tear down, repair, and rebuild faulty assemblies such as power systems, steering systems, and linkages.
  Rewire ignition systems, lights, and instrument panels.
 Repair radiator leaks.
  Install and repair accessories such as radios, heaters, mirrors, and windshield wipers.
  Repair manual and automatic transmissions.
  Repair or replace shock absorbers.
Work Context
Requires using hands to handle, control, or feel objects, tools or controls, Requires standing, Requires bending or twisting, Requires repetitive movement, Requires contact with others (face-to-face, by telephone, or otherwise), Requires face-to-face discussions with individuals or teams, Requires telephone conversations, Requires dealing with unpleasant, angry, or discourteous people, Includes exposure to sounds and noise levels that are distracting or uncomfortable, Requires working in very hot (above 90 F degrees) or very cold (below 32 F degrees) temperatures, Requires working in cramped work spaces and getting into awkward positions, Includes exposure to contaminants , Requires working in extremely bright or inadequate lighting conditions, Opportunity to make decisions without supervision, Requires making decisions that affect other people, the financial resources, and/or the image and reputation of the organization, Requires making decisions that impact the results of co-workers, clients or the company, Requires exposure to minor burns, cuts, bites, or stings, Requires exposure to hazardous equipment, Requires exposure to hazardous conditions, Requires being exact or highly accurate, Freedom to determine tasks, priorities, and goals, Requires meeting strict deadlines, Requires work with external customers or the public, Requires work with others in a group or team, Requires wearing common protective or safety equipment, Requires working in a closed vehicle or equipment, Requires working indoors in non-controlled environmental conditions
Schedule: Mon-Fri
Pay: $12- DOE
Why work for Personnel Plus, Inc.
As the area's largest Staffing Service, we value adding you as a member of our great team
Your application will be considered for many urgent openings
Apply Today - work today
Flex pay - choose Direct Deposit, pay card, or paper check
Health Benefits - Medical, Dental, Vision, Disability, Life Insurance
We never charge a fee
To apply for this job, send us your resume OR Email Contact information OR call 208.733.7300 OR send a TEXT MESSAGE OR visit your local office OR click the Apply for Job button below
Trust our employment professional to be your advocate and help find that ideal position for you!