Day Shift
Full Time
Seasonal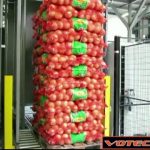 Website PersonnelPlus Personnel Plus, Inc.
Your Total Staffing Solution
Stackers:

3 Employees needed!
Employees that are assigned to stacking will be lifting 25# and 50# bags of onions and placing them onto pallets in a stacking pattern that will keep the bags from falling off the pallet. Employees will also be stacking 25#, 40#, and 50# cartons of onions onto pallets. You will be required to lift the cartons and place the cartons in a certain pattern depending on the size of carton. Employees will receive instruction and training
Pay: $10.50
Hours: will vary this week at 40 +/- and next week will be ramp up with overtime and should last until October. There will be some that will carry on to our west facility for the packing season which will last till March/April.
Schedule: 8am -6pm and sometimes 8pm. Two 15 minute breaks,1/2 hour lunch and we have a large break room and a smoking area outside. *On Fridays it is a 1 hour lunch.