Day Shift
Full Time
No Weekends
Temp to Hire
20.00 USD / Hour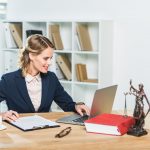 Bilingual Legal Assistant – $20.00 p/h in Meridian, ID
Full-time position in Meridian, Idaho
Monday- Friday, 8 am – 5 pm
Formal Spanish and English Fluency required
 DUTIES:
Work with attorneys and law firm clients, preparing and maintaining clients' applications and case documents, writing detailed notes in case-management software, managing casework, providing continued communication and assistance to assigned clients, and filing various submissions with government agencies and courts when needed
Communicate regularly with clients to obtain documents, track case progress, and locate and develop case-relevant information
Provide assistance and clarification for any case-related questions indicated by clients
Conduct research for client matters as instructed by the attorney
Monitor case statuses for deadlines, updates, changes, or notifications
Draft correspondences, affidavits, and applications for various government agencies such as USCIS, NVC, EOIR, state/local agencies, and so on
Review and organize confidential documents, gather information, complete forms, and prepare submissions for attorney review.
Perform other tasks consistent with the job position from beginning to end
Prepare and maintain case files including preparation of legal and case documents, detailing notes in case-management software, filing submissions, and updating case files.
Provide attorneys with important dates and deadlines for each case monthly
Administratively support and prepare for interviews, hearings, and trials
Possess excellent attention to detail and the ability to manage multiple assignments with minimal supervision
Perform day-to-day operations including, document processing, phone systems management, contracts, and calendar management
Comfortable multi-tasking and prioritizing tasks without guidance
Ensure client's timely payment on a case and process all payments received in the office and ensure proper receipts are sent
REQUIREMENTS:
Formal Spanish and English Fluency
Excellent interpersonal and customer service skills, on the phone and in person
Superior written and verbal communication skills
Detail-oriented and professional
Understanding of basic personnel and office management practices
Ability to organize and prioritize tasks, delegating when appropriate
Proficiency typing 40+ words per minutes
Proficiency in Microsoft Office Suite or other similar software program
Education and Experience:
Preferred, Bachelor's degree or four-year degree equivalent
Preferred, two years in a law office environment
Why work for Personnel Plus, Inc.
As the area's largest Staffing Service, we value adding you as a member of our great team
Your application will be considered for many urgent openings
Apply Today - work today
Flex pay - choose Direct Deposit, pay card, or paper check
Health Benefits - Medical, Dental, Vision, Disability, Life Insurance
We never charge a fee
To apply for this job, send us your resume OR Email Contact information OR call 208.378.8700 OR send a TEXT MESSAGE OR visit your local office OR click the Apply for Job button below
Trust our employment professional to be your advocate and help find that ideal position for you!