Day Shift
Full Time
Seasonal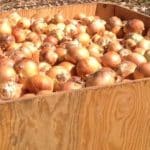 Website PersonnelPlus Personnel Plus, Inc.
Your Total Staffing Solution
Harvest is upon us!!! 
Location: Parma Idaho
10 Binners needed, no experience required, binners will be performing tasks such as stapling tags on bins, pushing empty and full bins on roller tracks as well as operating machinery. The key components to these positions will be tagging and keeping bins on track and close together so that onions do not fall between bins. All employees at the bin station will be required to help sweep up dirt and debris as needed.  
Pay: $9.50 
Hours: will vary this week at 40 +/- and next week will be ramp up with overtime and should last until October. There will be some that will carry on to our west facility for the packing season which will last till March/April. 
Schedule: 8am -6pm and sometimes 8pm. Two 15 minute breaks,1/2 hour lunch and we have a large break room and a smoking area outside. 
*On Fridays it is a 1 hour lunch. During the binning season breaks and lunches will alternate due to which binning station has the last truck and then rotates from there.