Rotating Shifts
Seasonal
Shift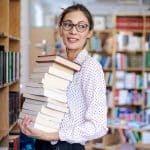 Website PersonnelPlus Personnel Plus, Inc
Your Total Staffing Solution!
Job Title : Book Store Associate
Posted : 12/11/2018
Location : Twin Falls, Idaho 83301
Start Pay : $9.00
Job ID : PER5480
Bookstore Employee Job Duties:
Job Description
Provide excellent customer service, cash register operations, cash handling, processing sales, etc. Placement lasts approximately three weeks.
Use the bookstore inventory management computer system to provide and assist with finding accurate book information.
Use the bookstore inventory management computer system to stock shelves and maintain the appearance of the bookstore.
Ensure that each customer receives outstanding service by providing a friendly environment, which includes greeting and acknowledging every customer.
Maintain outstanding standards, solid product knowledge and all other aspects of customer service.
Maintain orderly appearance of register area and keep supplies stocked..
Cashiers perform floor persons duties, in addition to cashiering.
Other duties as assigned.
Skills/Qualifications:
High School diploma or equivalent.
Eligible to work in the United States.
Excellent communication skills.
Successful completion of pre-employment background and drug screen.
Basic keyboarding and computer skills are needed to use bookstore point of sale system and inventory control system.
Ability to stand for extended periods.
Ability to move and handle boxes of merchandise throughout the store, which entails lifting up to 50lbs.
Ability to work varied hours/days
May require repetitive bending, stooping, reaching, pushing, pulling, walking, squatting, kneeling, twisting manual grasping and handling.