Day Shift
Full Time
No Weekends
Temp to Hire
15.00 USD / Hour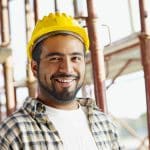 Carpentry and Masonry Specialist
This is a job that requires hard work but will give you the opportunity to learn the trade and be outside at various construction, Masons build structures with brick, block, and stone, some of the most common and durable materials used in construction. They also use concrete—a mixture of cement, sand, gravel, and water—as the foundation for everything.
Job Experience:
Must have well-rounded general carpentry skills.
Competent at all phases of construction from foundation through finish work.
Follow specifications and complete the job on schedule and within budget.
Commitment to high-quality work with excellent time management.
Responsible for promoting a safe and productive work environment.
The ability to perform layout and installation of framing and finishing of challenging projects with an ability for anticipating and resolving problems.
Self-motivated and able to maintain a safe and clean job site, become familiar with job site safety compliance regulations.
Carpentry experience, with demolition, framing (steel stud or stick), or finish work is preferred.
Hands-on experience in working with carpentry materials.
Excellent understanding of carpentry techniques and methods of installation and construction.
Proficient in using electrical and manual equipment and measurement tools (powered saws, hammers, rulers, tape measure, and saws).
Willingness to follow safety guidelines at all times.
Good understanding of basic math.
Good physical condition and endurance.
Requirements:
Must have experience working on a construction site.
Must have own work boots Steel toe or composite.
Must have the ability to stay focused without direct supervision.
Cannot be scared of heights
Must be able to lift at least 50 lbs. all day long in various work environments.
Must be motivated and a self-starter.
Must be able to pass a pre-employment drug test
Proven skilled construction background
Proficiency with general construction tools pertaining to the job description like tape measures and saws.
Ability to work in outdoor weather conditions.
Adhere to company attendance standards.
Comply with company safety policies and regulations.
Come be a part of our team!
Why work for Personnel Plus, Inc.
As the area's largest Staffing Service, we value adding you as a member of our great team
Your application will be considered for many urgent openings
Apply Today - work today
Flex pay - choose Direct Deposit, pay card, or paper check
Health Benefits - Medical, Dental, Vision, Disability, Life Insurance
We never charge a fee
To apply for this job, send us your resume OR Email Contact information OR call 208.678.4040 OR send a TEXT MESSAGE OR visit your local office OR click the Apply for Job button below
Trust our employment professional to be your advocate and help find that ideal position for you!