CNC Machinist
Day Shift
Full Time
Long Term
Overtime
Salary: 22.00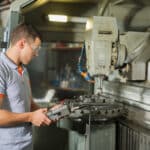 Website PersonnelPlus Personnel Plus, Inc.
Your Total Staffing Solution!
CNC machinists run and monitor computer-numeric-controlled machines, which are used to make metal tools and parts. They ensure that the machines are operating correctly and that pieces are cut to perfection. They also perform maintenance on the machines and replace dull or aged parts as necessary.
Job Responsibilities
Determine the fixtures, attachments, and tools necessary to complete jobs according to specifications, and mount them to the machine prior to beginning cutting
Discuss project specifications with engineers and supervisors to guarantee consistency between plans and products, and collaborate to modify designs when existing ones are not feasible
Modify machine speed, tooling, and cutting style to ensure precision and accuracy of manufactured parts
Oversee the cutting process, make adjustments throughout each job, catch mistakes as they happen, and take necessary measures to eliminate errors
Supervise machine temperatures, ensure that the machine has an adequate warm-up and cool-down time between jobs, and replace coolant periodically
Review and interpret cutting plans, enter them into control outlets before jobs, and alter them to correct mistakes when necessary
Inspect all finished products for accuracy and uniformity to ensure product quality and uphold the company's reputation
Perform daily, weekly, and monthly maintenance tasks to ensure machine longevity, including lubrication, cleaning, and tool replacement
4-axis machine tool
Understanding G/M code
Lathes, CNC Lathes, Mill, Grinders
Recommended feeds and speeds for machine tools
Read prints
Safely secure and remove holding fixtures
Job Skills & Qualifications
Required:
High school diploma or equivalent
At least one year of experience operating CNC machines
Comfortable using tools and maintaining machinery
Familiarity with programming and interpreting CNC software
Basic math skills fractions, percentages, ratios, and proportions.
Preferred:
Strong troubleshooting and problem-solving abilities
Values precision and enforces quality standards
Ability to understand G-code
Payrate: $22
Why work for Personnel Plus, Inc.
As the area's largest Staffing Service, we value adding you as a member of our great team
Your application will be considered for many urgent openings
Apply Today - work today
Flex pay - choose Direct Deposit, pay card, or paper check
Health Benefits - Medical, Dental, Vision, Disability, Life Insurance
We never charge a fee
To apply for this job, send us your resume OR Email Contact information OR call 208.678.4040 OR send a TEXT MESSAGE OR visit your local office OR click the Apply for Job button below
Trust our employment professional to be your advocate and help find that ideal position for you!