Full Time
Temp to Hire
Pay Starts: $15.00
Job ID: 74558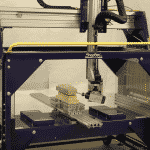 Website PersonnelPlus Personnel Plus, Inc.
Your Total Staffing Solution!
CNC Operator Job Duties:
Personnel Plus, Inc is currently hiring an individual for a CNC Operator.
The CNC Operator will program, set-up, and operate CNC machinery, perform machine maintenance, make operational adjustments, and perform parts inspections. This is a temp to hire position.
SUMMARY
A set up operator will setup a press with tooling & material appropriate to the work order, using precision tools to ensure accuracy. Performing production inspections throughout the production process, use precision measuring equipment, do routine machine maintenance, quality monitoring, review paperwork for accuracy, trouble shoot, and communicate within departments to produce a final product meeting the customer's specifications.
ESSENTIAL DUTIES AND RESPONSIBILITIES include the following:
Read, understand, and interpret engineering drawings and basic blueprints.
Inspect paperwork for complete and accurate information.
Inspect products using precision measuring tools.
Inspect production parts throughout the production process ensuring customer specifications are being met.
Add, subtract, multiply, and divide quickly and accurately.
Perform visual inspection of parts and raw materials.
Perform special inspection procedures.
Prepare special inspection reports.
Ability to demonstrate the character trait of "Attention to Detail."
Willingness and ability to adapt to changing priorities.
Set up presses with tooling, material, and equipment for production jobs.
Machine maintenance, such as lubricating and monitoring for signs of unusual conditions.
Basic knowledge and demonstrated skills in mechanics and mechanical procedures.
Must be able to operate forklifts and stationary lifting devices.
Ability and willingness to learn to plan the process of work.
Ability and willingness to learn basic troubleshooting.
Work in a safe and professional manner, keep a clean work area, and wear proper protective equipment.
Cooperation with supervisor and co-workers, willing to work as a team.
Show by example: temperament, professionalism, and teamwork.
Timely arrival and regular attendance at work.
Willing to work overtime.
Willing to work any shift.
Other duties may be assigned.
SUPERVISORY RESPONSIBILITIES
This position has no supervisory responsibilities.
QUALIFICATIONS
To perform this job successfully, an individual must be able to perform each of the essential duties satisfactorily. The requirements listed below are representative of the knowledge, skill and/or ability required. You may be required to possess or obtain hand tools or measuring equipment. Reasonable accommodations may be made for individuals with disabilities.
TECHNICAL SKILLS
None required.
EDUCATION and/or EXPERIENCE
or equivalent combination of education and experience.
LANGUAGE SKILLS
The ability to read, write and speak the English language with comprehension skills sufficient to understand safety standards and job performance expectations.
MATHEMATICAL SKILLS
Ability to add, subtract, multiply, and divide in all units of measure, using whole numbers, common fractions, and decimals.
REASONING ABILITY
Ability to interpret instructions which may be furnished in written, oral, diagram or schedule form.
CERTIFICATES, LICENSES, REGISTRATIONS
None required.
PHYSICAL DEMANDS
While performing the duties of this job, the employee is required to stand; use hands to feel, handle, or grab; reach, pull, push, and lift with hands and arms. The employee frequently is required to walk and stoop, kneel, crouch and reach. Some sitting is required. The employee is occasionally required to lift and/or move 5 to 50 pounds and occasionally move up to 90 pounds. Specific vision abilities required by this job include close vision, depth perception and the ability to adjust focus. The employee is required to wear steel-toe shoes/boots for 8 hours a day, and hearing protection while on the press floor.
WORK ENVIRONMENT
While performing the duties of this job the employee is regularly subject to hazards, such as proximity to moving mechanical parts, there is air and/or skin exposure to oils and noise.
The noise level in the environment is .