Davenport Combo Setup Operator
Day Shift
Full Time
Temp to Hire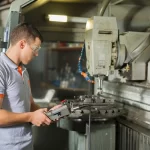 Website PersonnelPlus Personnel Plus, Inc.
Your Total Staffing Solution!
Personnel Plus is HIRING Heavy Davenport Combo Setup Operator in Twin Falls, ID.
Monday – Friday
Day shift
$14 – $17 DOE
40-hour weeks (OT depending on orders)
Duties:
Capable of setting up Davenport Multi-Spindle Screw Machines and may be familiar with laying out the operations, cams, gearing, attachments and tooling
Monitor quality and cycle times of parts being produced
Inspect part produced after set-ups using precision measuring tools including micrometers and calipers
Ensure parts produced meet standards defined in work orders and blue prints
Load material on machines
Understand how to read a work order and properly fill out all information
Understanding of machine maintenance, such as lubricating and monitoring for signs of unusual conditions
Read, understand and interpret engineering drawings and how to measure according to print
Learn how to dispose of oils, materials, and scrap
Ability to identify and recommend process improvements leading to cycle time reductions and improved reliability and safety
Verifies the expected cycle time on the Job Order and takes appropriate action if necessary
Excellent knowledge and demonstrated skills in mechanics and mechanical procedures
Work in a safe and professional manner, keeping a clean work area and wearing proper protective equipment
Cooperation with leadership and co-workers, willing to work as a team
Other duties may be assigned
Requirements:
Must be able to perform each of the essential duties satisfactorily
Ability to add, subtract, multiply, and divide in all units of measure, using whole numbers, common fractions, and decimals
Ability to interpret instructions which may be furnished in written, oral, diagram, or schedule form
Must be able to lift 75+ pounds
Must wear safety-toe shoes/boots
High School diploma or GED
Why work for Personnel Plus, Inc.
As the area's largest Staffing Service, we value adding you as a member of our great team
Your application will be considered for many urgent openings
Apply Today - work today
Flex pay - choose Direct Deposit, pay card, or paper check
Health Benefits - Medical, Dental, Vision, Disability, Life Insurance
We never charge a fee
To apply for this job, send us your resume OR Email Contact information OR call 208.733.7300 OR send a TEXT MESSAGE OR visit your local office OR click the Apply for Job button below
Trust our employment professional to be your advocate and help find that ideal position for you!