Rotating Shifts
Temp to Hire
Pay Starts: $10.00
Job ID: 110498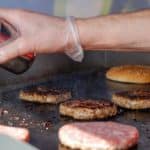 Website PersonnelPlus Personnel Plus, Inc.
Your Total Staffing Solution!
Personnel plus of Twin Falls is hiring for multiple cook positions in Twin Falls and Buhl. The Cook position will perform prep work and meal preparation as necessary in a fast paced environment. You will be working and reporting directly with the owners, primarily the Kitchen/General Manager and will assist with any and all duties assigned by them. This company is a very small operation with each of us wearing multiple hats.
Example of Daily Tasks:
• Prepare food following specifications of established recipes. such as making sandwiches, carving meats, sautéing vegetable, preparing sauces, making soups, salads, or slow smoking meats using an ugly drum.
• Ensure prep and steam tables are stocked before shift start.
• Coordinate timing of food production activities so that items served together are finished at the same time.
• Ensure that level of quality, portion control, and plate presentation is adhered to consistently
• Maintain kitchen in clean, sanitary condition, meeting all health code requirements.
• Clean up, including cooking utensils, serving dishes, and pub glassware per established procedures.
• Promptly advise Pub Owners of any equipment repair or replacement needs
• Develop and price out recipes according to department procedures and cost limitations.
• Stock, rotate, merchandise and face product according to department procedure.
• Follow proper safety, food storage, and labeling procedures.
• Maintain storage areas in clean, orderly and efficient condition.
• Monitor stock levels and stock quality
• Order product as necessary if requested, according to procedure.
• Accurately complete all daily paperwork
• Follow established Pub opening and closing procedures.
• Assist in other departments as needed.
• Communicate with and train team members in understanding product flavors and features of existing and new product releases.
• Representing the company in a professional manor at a variety of beer festivals, community and catering events.
• Perform other duties as assigned by Pub Manager
KEY RESPONSIBILITIES:
• The ability to read English, understand and follow verbal directions in English • Be able to work flexible hours • A strong work ethic and the ability to multi-task • Solid problem-solving skills • The ability to work well independently, as well as part of a team • Good communication skills • Flexibility to do whatever it takes to get the job done right
• Computer and software skills such as MS office, excel, word, etc.
MINIMUM EDUCATION &/OR EXPERIENCE REQUIRED:
• A High School Diploma or GED • Experience in a fast-paced restaurant kitchen • Physical Demands – Cook/Assistant Cook must be able to: o Frequently stand for the duration of the shift, walk, bend over, twist, kneel, climb, stoop and crouch. This position requires the ability to routinely and repeatedly lift up to 55 pounds and occasionally maneuver up to 170 pounds with help. o Use their hands to perform fine manipulation, handle or feel, and must be able to reach with hands and arms. o Identify product deficiencies (color, smell, taste).
WORK ENVIRONMENT: While performing the duties of this job, the employee is regularly exposed to a damp, wet environment with hot liquids, airborne particles, chemicals, and moving machinery. This can be a fast-paced high stress environment. The noise level in the work environment can be very loud.
POSITION TYPE: This is an hourly position. Days and hours vary, Pay starts at $10.00 with incentives.
To apply for this job, send us your resume OR Email Contact information OR call 208.733.7300 OR send a TEXT MESSAGE OR visit your local office OR click the 'Apply for Job' button below