Day Shift
Full Time
Graveyard Shift
Rotating Shifts
Temp to Hire
18-26 USD / Hour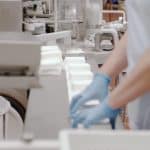 Dairy Processing Operator
Personnel Plus is HIRING Dairy Processing Operator in Jerome, ID.
Rotating schedule, 3 days on, 4 days off
12-hour shifts, 6am-6pm or 6pm-6am
$18 – $26 DOE
40-hour weeks (OT depending on orders)
Duties:
Communicate with the operator you are relieving to gain knowledge of the present state of the equipment and production run
Review previous shift paperwork, maintain proper documentation, as necessary, and follow the set production schedules closely
Must be able to follow specific directions
Effectively communicate with all departmental operators. Any issues should be reported to a shift lead/supervisor/manager in a timely manner
Maintain proper documentation for production Runs and CIP's
Maintain a clean and organized area
Maintain daily sanitation schedule
Follow personal hygiene and GMP Requirements
Safety oriented and follow all safety policies and procedures
Must qualify and be certified to drive a company forklift. Training provided.
Consistently monitor product quality and bring any issues to the attention of the lead or supervisor overseeing the shift
Requirements:
Must be able to lift 50 pounds
Must be able to stand and walk for long periods
Previous machine operator experience or equivalent skills
Must be able to climb or balance, stoop, kneel, crouch or crawl
High School diploma or GED
Why work for Personnel Plus, Inc.
As the area's largest Staffing Service, we value adding you as a member of our great team
Your application will be considered for many urgent openings
Apply Today - work today
Flex pay - choose Direct Deposit, pay card, or paper check
Health Benefits - Medical, Dental, Vision, Disability, Life Insurance
We never charge a fee
To apply for this job, send us your resume OR Email Contact information OR call 208.733.7300 OR send a TEXT MESSAGE OR visit your local office OR click the Apply for Job button below
Trust our employment professional to be your advocate and help find that ideal position for you!