Day Shift
Full Time
Long Term
Pay Starts: $D.O.E
Job ID: 2789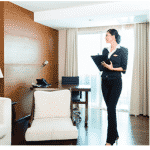 Website PersonnelPlus Personnel Plus, Inc.
Your Total Staffing Solution!
Job Summary
Executive Housekeeper is responsible for overseeing all Housekeeping Operations to deliver an excellent Guest and Member experience while evaluating guest satisfaction and setting department targets and objectives. Housekeeping Managers, Supervisors and Professional Cleaning Services invited to apply.
As an Executive Housekeeper, you are responsible for overseeing all Housekeeping/Laundry operations to deliver an excellent Guest and Member experience. An Executive Housekeeper/Housekeeping Manager will also be required to evaluate guest satisfaction and set department targets and objectives. Specifically, you will be responsible for performing the following tasks to the highest standards:
Oversee Housekeeping Operations
Help oversee Daily Breakfast Operations
Oversee Laundry Operations
Oversee Houseperson Position
Evaluate Guest satisfaction levels and monitor trends with a focus on continuous improvement
Operate within departmental budgets through effective stock and cost controls and well managed schedules
Set departmental targets and objectives, work schedules, budgets, and policies and procedures
Inspect, regularly, all fixtures, fittings, and appliances to ensure compliance to standards and take action as necessary to conform to standard
Monitor the appearance, standards and performance of the Housekeeping/Laundry Team with an emphasis on training and teamwork
Ensure team members have an up-to-date knowledge of all room categories and amenities