Farm Laborers
Day Shift
Full Time
Seasonal
Temporary
Salary: 14.00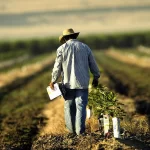 Website PersonnelPlus Personnel Plus, Inc.
Your Total Staffing Solution!
Job Purpose
Use hand tools, such as shovels, trowels, hoes, tampers, pruning hooks, shears, and knives. Duties may include tilling soil and applying fertilizers; transplanting, weeding, thinning, or pruning crops; applying pesticides; cleaning, packing, and loading harvested products. May construct trellises, repair fences and farm buildings, or participate in irrigation activities.
Tasks
Set up and operate irrigation equipment.
Operate tractors, tractor-drawn machinery, and self-propelled machinery to plow, harrow and fertilize soil, or to plant, cultivate, spray and harvest crops.
Repair and maintain farm vehicles, implements, and mechanical equipment.
Harvest fruits and vegetables by hand.
Work Activities
Handling and Moving Objects
Controlling Machines and Processes
use herbicides, fertilizers, pesticides or related products
use hand or power tools
use vehicle repair tools or safety equipment
operate power driven pumps
fasten attachments or accessories to tractor
operate agricultural equipment or machinery
use chain saws
Basic Skills
Understanding the implications of new information for both current and future problem-solving and decision-making.
Giving full attention to what other people are saying, taking time to understand the points being made, asking questions as appropriate, and not interrupting at inappropriate times.
Using logic and reasoning to identify the strengths and weaknesses of alternative solutions, conclusions or approaches to problems.
Selecting and using training/instructional methods and procedures appropriate for the situation when learning or teaching new things.
Using mathematics to solve problems.
Monitoring/Assessing performance of yourself, other individuals, or organizations to make improvements or take corrective action.
Understanding written sentences and paragraphs in work related documents.
Using scientific rules and methods to solve problems.
Talking to others to convey information effectively.
Communicating effectively in writing as appropriate for the needs of the audience.
Social Skills
Adjusting actions in relation to others' actions.
Teaching others how to do something.
Bringing others together and trying to reconcile differences.
Persuading others to change their minds or behavior.
Actively looking for ways to help people.
Being aware of others' reactions and understanding why they react as they do.
Why work for Personnel Plus, Inc.
As the area's largest Staffing Service, we value adding you as a member to our great team
Your application will be considered for many urgent openings
Flex pay - choose Direct Deposit, pay card, or paper check
We never charge a fee
To apply for this job, send us your resume OR Email Contact information OR call 208.733.7300 OR send a TEXT MESSAGE OR visit your local office OR click the Apply for Job button below
Trust our employment professional to be your advocate and help find that ideal position for you!