Day Shift
Full Time
Long Term
Part Time
Rotating Shifts
Temp to Hire
Pay Starts: $9.00-10.00
Job ID: 6091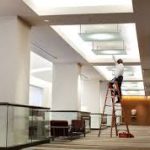 Website PersonnelPlus Personnel Plus, Inc.
Your Total Staffing Solution!
Mall Walker

Procedure:
REPORTS TO:       	OPERATIONS DIRECTOR
ESSENTIAL FUNCTIONS 	
1.	Check, clean and stock restrooms at close of business. Follow Closing Bathroom Checklist.
2.	Patrol mall for debris and spills - clean up as needed.
3.	Maintain glass to be free of smudges, fingerprints, etc.
4.	Dust ledges, sign holders, benches, telephones, etc.
5.	Maintain cleanliness of mall entries and all company curbs.
6.	Maintain cleanliness of service halls and courts.
7.	Keep eyes open for and report any maintenance problems to proper people.
8.	Assist management personnel.
9.	Look for ways to assist customer and tenants.

 Food Court Attendant

ESSENTIAL  FUNCTIONS
1.	Clear tables of debris and wipe down.	
2.	Check floor for debris and/or spills and clean.
3.	Clean entry doors as needed.
4.	Keep food court service hallway free of trash and debris.
5.	Check and clean tile columns, ledges, walls, lights, signs, etc.
6.	Empty trash cans and replace bags; keep compactor area clean of all debris.
7.	Assist management personnel.            
8.	Clean bathrooms as described in training checklists. 
9.	Look for ways to assist customers and tenants.
10.	Complete daily, weekly and monthly cleaning job duties as assigned.

Maintenance
Procedure:
REPORTS TO: Operations Director
ESSENTIAL FUNCTIONS
1.	Inspect and replace light bulbs and ballasts

2.	Patrol mall and identify damage and items in disrepair

3.	Ensure all door closures and hardware are in good repair

4.	Repair and replace broken tile or missing grout

5.	Scrubber and other janitorial equipment repair and maintenance.

6.	Stand Pipe and electrical room cleaning

7.	Assist outside maintenance when required

8.	Assist Floor walkers and Food Court staff

9.	Cover shift for food court, Graveyard, and Floor Walkers when necessary.