Pay Starts: $13.00
Job ID: 110527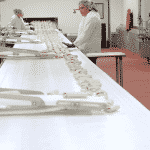 Website PersonnelPlus Personnel Plus, Inc.
Your Total Staffing Solution!
Food Plant Operator
Caldwell, ID 83606
Job Description: 
Food plant operators are responsible for manufacturing all food items in the factory and performing sanitation duties daily.
Position Responsibilities:
Cooking
Baking
Packaging
Assembly
Qualifications & Skills:
Adhere to high standards of sanitation, cleanliness and quality
Follow verbal and written instructions
Follow written policies, recipes and standard operating procedures
Basic computer and data entry skills
Ability to perform redundant tasks over a period of time
High school Diploma or GED or the equivalent
Stand, walk, bend, twist, climb, balance, crouch and use hands and fingers to handle or feel objects and controls.
Able to lift 50lbs occasionally up to 65lbs
** Food Handlers Certificate** ( ask how to get one free)
Required Dress Code:
Must wear all approved personal protection equipment, including smock, caps, gloves, and facemask.
Schedule:
Full Time Temp To Hire
Work DAY SHIFT ONLY
8-10 hours 4-5 days a week  with 1 weekend date either Saturday or Sunday
Shifts start 5am and 6am
Wage $13.00/hr. to start
About the Company:
Food plant that transforms raw food ingredients into delicious packaged foods for convenience stores and their customers. Full benefits offered as soon as temporary period is complete!
To apply for this job, send us your resume OR Email Contact information OR call 208.466.6800 OR send a TEXT MESSAGE OR visit your local office OR click the 'Apply for Job' button below