Day Shift
Full Time
No Weekends
Temp to Hire
19.00 USD / Hour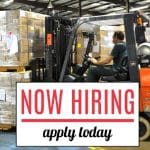 Forklift Operator/Load Builder- Warehouse $19.00 p/h Tuesday-Friday, day shift!
Personnel Plus is HIRING a Forklift Operator in Boise, ID
3-day weekends!
Tuesday – Friday, 5 am- 3:30 pm
$19.00 p/h to start
Temp-to-hire + Excellent Benefits
Duties:
The Material Handler is responsible for the safe and timely delivery of raw materials internally used throughout our manufacturing facility to meet production goals
Exhibits outstanding operational skill and safety consciousness while demonstrating the ability to meet deadlines, and manage multiple tasks in a fast-paced, highly active environment
Loads, unloads, and delivers materials within or near the worksite
Loads materials into vehicles and installs strapping, bracing, or padding to prevent shifting or damage in transit, using hand tools.
Interpret instructions; oral & written
Handling and managing materials, and receiving deliveries
Filling orders from numerous departments
Ensure the stable flow of materials in the shop
Other projects as assigned
Requirements:
A Valid Driver's License is required.
1-year experience loading and unloading materials with a forklift
Recent experience in a similar position is desirable
Demonstrate skilled forklift operation. (Forklift driving test will be administered) Forklift certification is preferred, NOT required
Strong attention to detail and excellent communication skills
Able to lift up to 75 lbs
Why work for Personnel Plus, Inc.
As the area's largest Staffing Service, we value adding you as a member of our great team
Your application will be considered for many urgent openings
Apply Today - work today
Flex pay - choose Direct Deposit, pay card, or paper check
Health Benefits - Medical, Dental, Vision, Disability, Life Insurance
We never charge a fee
To apply for this job, send us your resume OR Email Contact information OR call 208.378.8700 OR send a TEXT MESSAGE OR visit your local office OR click the Apply for Job button below
Trust our employment professional to be your advocate and help find that ideal position for you!