Pay Starts: $13.50
Job ID: 110304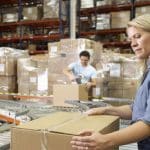 Website PersonnelPlus Personnel Plus, Inc.
Your Total Staffing Solution!
We are seeking 2 labor workers for a company located in Fruitland Idaho. This Company focuses on custom manufacturing liquid and dry feed supplements for feed yard, dairy, cow-calf and stocker operations throughout the state. General responsibilities will include cleaning, assembling boxes, filling boxes as well as hand stacking orders. These boxes can weigh up to 100lbs a 50lb physical will be required. We are also seeking a bagger to bag the products. This position is a temp position for the next 4-5 weeks and it will be a Monday – Friday. This is a physical work position if you feel like this is something you can do for the next 4-5 weeks please call our office today we would love to get you started ASAP!!
Grave: 10:00pm-8:00am  (shifts may require 10 hour days depending on work load)
Pay: $13.75
Requirements:
Must be able to lift 50lbs repetitively
Drug free
Good attendance
Reliable transportation
No experience is needed
Work clothes (Long pants, short sleeve shirt, boots)