Hiring Grain Operator
Full Time
Overtime
Rotating Shifts
Temp to Hire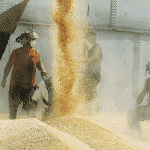 Website PersonnelPlus Personnel Plus, Inc.
Your Total Staffing Solution!
This Position is full-time responsible for processing, unloading, receiving, and inspecting merchandise in an efficient and productive manner, entering data information must have knowledge of computer software.
Essential Duties and Responsibilities:
Prepares, and sets up to receive merchandise;
Unloads, receives, inspects, scans, and sorts incoming merchandise; tags the merchandise correctly and directs it to its designated location;
Tickets, stocks, picks, and stacks merchandise;
Prepares merchandise for shipment or deliver: labels, sorts, wraps, and stacks merchandise;
Operates grain and milling equipment to reach optimum performance levels, capacity, and quality standards;
Adjusts the gain equipment to adapt to variances in grain; makes minor adjustments to the equipment settings to ensure the produced meets quality standards and expectations;
Monitors the quality of the product to ensure the product meets industry/ company standards; reports and sets aside defective product;
Inspects and services equipment to ensure that the equipment is performing is performing at peak efficiency at all times;
Moves merchandise to its designated storage areas with the use of industrial equipment;
Operates a forklift and pallet jack, safely; inspects industrial for mechanical problems before using to ensure it is in safe operable conditions; checks and signs back in the forklift and pallet jacks; charges the forklift battery as needed;
Records daily production activities and verifies production; maintains adequate records of production volume, downtime and equipment breakdowns;
Identifies and recommends opportunities to improve productivity levels and service methods in order to maximize overall quality and productivity.
Complies with state, federal laws, policies, and regulations, and adheres to quality assurance programs and safety standards;
Adheres to safety programs to promote a safe environment and to minimize safety hazards/ injuries;
Attends informational meetings and work-related training to keep abreast of any new policies and/or procedures or company or company developments/initiatives.
Supportive duties and responsibilities:
Cleans up work area; picks-up cardboard, plastic and other debris that is lying around;
Performs miscellaneous job-related duties as assigned.
Education/Experience:
High school diploma or equivalency
(No felonies )
Qualifications:
Minimum prior and type of experience
Experience working in a manufacturing/production environment.
Minimum Knowledge/skills/abilities:
Competent working with computers; knowledgeable of operation software;
Knowledge of basic math principles and able to read and write;
Excellent hand-eye coordination;
Ability to collaborate and work as a team;
Safety cautious;
Ability to operate a forklift and pallet jack in a safe manner;
Ability to follow directions, and work well with little supervision;
Ability to speak and write in English;
Valid driver's license;
Bilingual skills are (English/ Spanish) preferred, but not required.
Physical Requirements:
Must be able to work in cold to hot temperatures; work around dust, fumes, and/or moderate to loud noises; works inside and /or outside;
Able to lift, pull, carry, and pick-up average to heavy objects weighing up to 60 pounds;
Able to climb stairs and ladders; walk on paved and unpaved surfaces; sit a desk and operate a computer and keyboard; visual acuity to review written documentation; ability to hear, speak, and understand speech at normal room levels and on the telephone; manual dexterity to operate a telephone; lift horizontally and vertically, bend stoop, stand twist, and reach;
Work environment involves some exposure to hazards or physical risks, which require following basic safety precautions.
Why work for Personnel Plus, Inc.
As the area's largest Staffing Service, we value adding you as a member of our great team
Your application will be considered for many urgent openings
Apply Today - work today
Flex pay - choose Direct Deposit, pay card, or paper check
Health Benefits - Medical, Dental, Vision, Disability, Life Insurance
We never charge a fee
To apply for this job, send us your resume OR Email Contact information OR call 208.678.4040 OR send a TEXT MESSAGE OR visit your local office OR click the Apply for Job button below
Trust our employment professional to be your advocate and help find that ideal position for you!