Full Time
Grave Yard Shift
Part Time
Pay Starts: $10.00-12.00 DOE
Job ID: 76091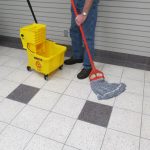 Website PersonnelPlus Personnel Plus, Inc.
Your Total Staffing Solution!
GRAVEYARD
Policy: To provide a standard of cleanliness to all common area interior flooring and support interior operations janitorial crew as needed.
Procedure:
 REPORTS TO: OPERATIONS DIRECTOR
Daily:
1. Check and maintain equipment prior to use each day
2. Blow-out interior common area halls including: storefronts, kiosk, tables, chairs, vending machines, playpark and service halls.
3. Power sweep interior common area
4. Power scrub designated areas each night
5. Vacuum all entries and service hall carpets/rugs
6. Use small scrubber to clean detail areas not reach by larger machine (bathrooms daily)
7. Walk-through and clean by hand as needed all interior common area flooring missed through other processes
8. Clean out all equipment used each day.
Weekly/Monthly:
1. Shampoo and scrub all soft seating furniture and carpets
2. Shampoo and scrub all entry carpets
3. Power clean play area floor
4. Deep scrub bathroom floors
5. Deep scrub common area tile showing any buildup (i.e foodcourt and seating areas)
Additional responsibilities as assigned.
 Upon becoming aware of maintenance problems or hazardous conditions, it will be your responsibility to report it as soon as possible to the proper individuals. i.e., maintenance, security, management.
 On occasion, as directed by management, your help may be needed with, but not limited to, the following: set up and take down of promotional items, clean vacant spaces, set up for temporary tenants, load and/or unload shipments, etc..
 Assist customers and tenants when possible, providing excellent customer service at all times.
 Understand and know how to execute all Emergency Procedures in the event a situation arises.
The above is a basic outline of your job duties. These are not to be considered your only duties. You will be required to perform other duties as assigned.