Day Shift
Full Time
Temp to Hire
Pay Starts: $13.51
Job ID: 71615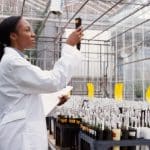 Website PersonnelPlus Personnel Plus, Inc.
Your Total Staffing Solution!
Description:
The majority of the employee's work will be in a greenhouse and laboratory environment. The employee will be responsible for numerous tasks required to maintain efficient production in the greenhouse and laboratory. This position will require some laboratory work, including microscopy, tissue culture, and sample preparation. The main responsibilities of this position will be:
1. Taking care of wheat plants in greenhouses and growth chambers though activities such as transplanting, watering, and fertilizing.
2. Greenhouse care and upkeep, including regular cleaning and organization;
3. Basic operations for producing wheat doubled haploids, such as emasculation of wheat flowers, harvesting and cleaning seed, logging data through bar code scanners, and accurate recording of work performance.
4. Performing manual pollination's by hand with high success rates.
5. Rotating weekend work required.
6. Must attain monitored production rates within 4-6 weeks of training.