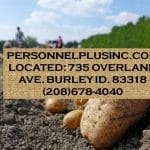 Website PersonnelPlus Personnel Plus, Inc.
Your Total Staffing Solution!
---
Job Description
We are seeking Candidates to work harvest in Burley, Idaho area-seasonal harvest work. We are currently looking for Tractor Drivers, 10Wheelers, Piler Operators, Remote Operators, Sorters, Graders, Samplers.
Must be able to lift up to 35 lbs. frequently, stand most of the shift. Outside weather conditions.
Must be 18. Must be able to work 6 days/week, sometimes 10-14 hour days, starting 7-8 am (no appointments or other obligations that would require missing work).
The number of hours may vary depending on the weather & amount of product scheduled to come in. On-the-job training will be provided.
To apply for this job, send us your resume OR Email Contact information OR call 208.678.4040 OR visit your local office OR click the 'Apply for Job' button below