Day Shift
Full Time
Seasonal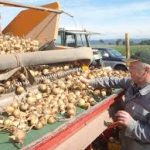 Website personnelplus Personnel Plus, Inc.
Your Total Staffing Solution
Harvest is upon us and Personnel Plus is seeking three-four sorters, starting as soon as today, to work the upcoming busy season we are anticipating; the season will be run about two-three weeks and will be working with onions. This is the perfect opportunity to get in a lot of hours in a short period of time!!!
PAY: 10.50/HR
MONDAY-FRIDAY (SOME SATURDAY'S)
8AM-8PM
SORTER: Sort out/ remove any onions that would keep them from meeting standards. Defected onions must be removed and tossed onto the COP belts. Defects include: serious cuts, seed stem, serious staining, peelers, misshaped watery scale and sunscald. Some of these defects may only be found by cutting the top.
MUST BE DRUG FREE
MUST BE ABLE TO LIFT UP TO 25LBS
CALL US @ (208) 453-7900 TO GET SET UP!
Job Types: Full-time, Temporary
Salary: $10.50 /hour