Day Shift
Full Time
Seasonal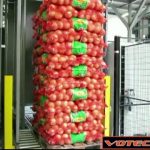 Website personnelplus Presonnel Plus, Inc.
Your Total Staffing Solution
Harvest is upon us and Personnel Plus is seeking three-four stackers starting as soon as today to work the upcoming busy season we are anticipating; the season will be run about two-three weeks and will be working with onions. This is a great opportunity to get in a lot of hours in a short period of time!!!
PAY: $10/HR
MONDAY-FRIDAY (MAYBE SATURDAY'S)
8AM-8PM
STACKER: Onion processor. Primary duties include stacking bags and cartons of various types of onions, up to 50 pounds, onto pallets, using specific patterns to keep them from falling off. May also pull bags/cartons of onions off of pallets and replace with different types of onions to correspond with customers' orders. May also pull bags/cartons off of stacked pallets and re-stack inside rail cars or trucks. Clean-up and other duties as necessary. All employees must be watchful of forklifts and trucks on the property.
MUST BE DRUG FREE
MUST BE ABLE TO LIFT 50+ LBS
*CALL US AT (208) 453-7900 TO GET SET UP!*
Job Types: Full-time, Temporary