Day Shift
Full Time
Overtime
Temp to Hire
Pay Starts: $13.00
Job ID: BUR1383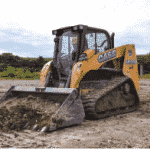 Website PersonnelPlus Personnel Plus, Inc.
Your Total Staffing Solution!
Summary
A heavy equipment operator drives or controls construction equipment including bulldozers, forklifts, back hoes, dump trucks, cargo trucks, and hydraulic truck cranes. They operate this equipment to assist in the construction of structures including bridges, roads, and buildings.
Job duties
"Operate heavy equipment in compliance with the company's operating safety policies and procedures"
• "Provide recommendations for maintaining and improving environmental performance"
• "Load and unload equipment from vehicles and trailers "
• "Ensure company equipment and material is maintained, kept cleaned, and stored in a safe manner"
• "Check filters and grease equipment"
• "Observe distribution of paving material to adjust machine settings or material flow, and indicate low spots for workers to add material."
• "Keep work area and equipment clean by collecting and disposing of scrap, excess materials, and refuse"
• "Proactively communicate with foreman, superintendent and coworkers"
• "Complete required paperwork, reporting, and other documentation as required"
Knowledge, Skills and Abilities Required
• Hand and Foot Coordination: You need to be able to coordinate movements of your hands and feet in order to guide very large machinery in tight places.
• Operation Monitoring: .The ability to read gauges, dials, and other indicators, adjust them is necessary.
• Coordination: On busy construction sites, you must be able to coordinate your actions with those of other workers.
• "Must have the ability and willingness to work in all types of adverse conditions such as extreme weather, enclosed spaces and heights up to 80 feet"
• "Experience reading plans and understanding tasks at hand"
• "Able to pass a drug test"
• "Be able to recognize safety issues"
• "Willing to accommodate a schedule that can require weekend work"
• "Ability to work without close supervision once directed on task"