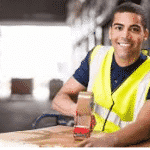 Website PersonnelPlus Personnel Plus, Inc.
Your Total Staffing Solution!
Job description
Employees will be bringing in steel items that will have to tie to racks with wires to chains, depending on the weight, you will move them through a bath and galvanize the parts, cool off, and quality control checks for drips and runs. Will be coating the iron or steel with zinc to avoid rusting and will be helping to package the steel or iron as well as counting parts and weighing the packages.
The schedule is Monday- Thursday, 7 am to 5 pm
Pay: $15.00
REQUIREMENTS
Steel toe boots
Be able to lift 80lbs
Ability to identify and follow quality standards
Regular and predictable attendance is required
Miscellaneous duties as assigned
To apply for this job, send us your resume OR Email Contact information OR call 208.678.4040 OR send a TEXT MESSAGE OR visit your local office OR click the 'Apply for Job' button below