Day Shift
Full Time
Long Term
Temp to Hire
Pay Starts: $10.00 DOE
Job ID: 110391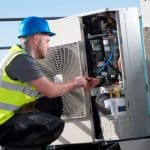 Website PersonnelPlus Personnel Plus, Inc.
Your Total Staffing Solution!
Personnel Plus inc, of Twin Falls is Hiring for someone to assist in heating, Ventilation and Air Conditioning install, maintain and repair indoor air quality systems, such as air conditioners. This may include performing warranty services and emergency repairs. This may also include assisting with customers' queries. Must be Bilingual and have a valid drivers license
DUTIES AND RESPONSIBILITIES:
 Inspect, repair, modify and install HVAC equipment including refrigeration and air conditioning compressors, receivers, condensers, chillers, water cooling towers, forced air converter units, pumps, automatic and hand valves, expansion valves and capillary tubes.
 Conduct regular preventive maintenance inspections of refrigeration units, isolated heating and ventilating units, including boilers, gas and electrically operated air-conditioning equipment, and make necessary adjustments or repairs; service and repair evaporative coolers.
Repair or replace defective parts in units and equipment and their controls, including thermostats, automatic switches, fan controls, log switches, damper motors, louvers, relays, filters, controls, belts, compressors, heat exchangers, high limit controls, pressure controls, safety valves, and automatic gas valves.
Operate a variety of hand and power tools, welder torch, vacuum pump, test equipment utilized in the trade and a motor vehicle; maintain equipment in effective and safe working condition; maintain parts and tool inventory.
 Repair and rebuild semi-hermetic reciprocating compressors and compressors for centrifugal refrigeration machines.
Perform skilled electrical maintenance work in the repair, installation and alteration of HVAC
Test and examine boiler operations, observing meter and pressure gauges; conduct boiler water quality test and treatment; adjust boiler burner combustion.
 Lubricate and pack heating, ventilation, refrigeration, and air-conditioning motors, pumps, fans, and other equipment.
 Install and calibrate systems; install copper tubing and repair pipes and tubing as necessary; test joints and insulate pipes of refrigeration and air conditioning systems; flush boilers, descale tubing; rebuild pressure and temperature safety valves and water pumps.
 Install, rebuild, replace or repair fans, motors, thermostats, fuses, filters, bearings, valves, controls, gaskets and other equipment as necessary.
 Maintain related records concerning time, labor and materials; maintain log of tasks performed and write reports as required.
Perform other duties as assigned.
 Maintain regular attendance.
To apply for this job, send us your resume OR Email Contact information OR call 208.733.7300 OR send a TEXT MESSAGE OR visit your local office OR click the 'Apply for Job' button below