Day Shift
Full Time
Overtime
Seasonal
Temporary
Pay Starts: $12.00
Job ID: IDA249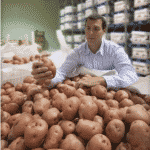 Website PersonnelPlus Personnel Plus, Inc.
Your Total Staffing Solution!
Inspector 1
Incumbents in these positions work in a high volume production setting until all samples are processed. Work involves exposure to extreme cold and heat, wet and humid environments, dust, dirt, exhaust fumes, poorly ventilated areas, noise and odors. Work requires standing for prolonged periods. Incumbents must communicate effectively while exercising tact and diplomacy and work independently with minimal supervision. Incumbents must keep work area in safe condition and report any hazards to supervisor. May involve irregular work hours, (partial days and/or long hours), days and times and a rotation to multiple locations. Incumbents will receive on-the-job training in proper sampling and safety procedures. Personal protective equipment may be required. Depending on the facility, incumbents may be required to purchase protective shoes and/or wear ear protection, hard hats, safety glasses, etc.
Example of Duties
General duties may include the following:
Forklift operating: Operate forklift to stage sample containers for inspection. With forklift, unload incoming samples from trucks; move containers to inspection station and place in production states by date and lot number; maintain awareness of flow of samples through inspection station, and select next appropriate sample according to date and lot number; remove and relocate empty containers; perform minor maintenance on forklifts; assist inspectors by physically lifting heavy items. May require maneuvering a forklift to loading docks across heavy traffic, around cramped, crowded plants, and over drainage gratings and slick floors inside the inspection station; perform related duties as required.
Grading/Raw Lab Technician: Simultaneously work with a crew of graders to examine product externally and internally according to standards pertaining to size, shape, varietal characteristics, appearance and degree of imperfection using visual inspection, paring knives, small scales and size rings; place commodities in bins by grades and unusable portions; answer questions from new graders on grading procedures and grading decisions; be responsible for accurately determining the grade of commodities for all lots or loads specified for inspection; assign initial grade to commodities according to Federal and State standards and contract specifications; sample commodity to determine the raw product's attributes; complete equipment maintenance and sanitation duties; enter testing data into proprietary database. Incumbent may be rotated on an as needed basis between internal and external grading assignments; perform related duties as required.
Sampling: Use sample tray or automatic sampling apparatus to take appropriate number of samples according to size of bulk load; follow specific sampling procedures to minimize product damage and to insure accuracy of sample; place appropriate number of samples in composite sample container; label container by date and contract number and attach identification tags; seal container to insure sample integrity; may assist in contract or dockside inspection by lifting and weighing samples; record sample weights on note sheets; some positions may be required to place sub-samples in sacks which may weigh up to 100 pounds then carry sacks to pallets.
Auditing: Drive to various, sometimes remote, locations; conduct an opening meeting with the auditee; review auditee's food safety plan; use appropriate checklist to interview the auditee and the auditee's employees to determine adherence to their plan, to the checklist/audit scheme requirements and their risk analysis, logs, test results, training records and/or other documentation; tour the fields, storage buildings, and/or packing facilities; document findings; note and explain non-conformances; write Corrective Action Reports (CAR); conduct a closing meeting, review findings, answer questions, and leave CARs; digitally enter and submit the audit to the Ag. Program Manager for review; perform related duties as required.
Other duties as assigned.
Benefited Inspector 1 positions may:
Train as an Inspector 2 or Inspector 3
Perform duties as a Seed Inspector, Grasshopper Scout, Insect Trapping Scout, Invasive Species Surveyor, Redfish Inspector, Roving Inspector, Hydrilla Inspector, Field Inspector, Field Inspection Team Lead, Field Inspection Supervisor, North Idaho Panhandle Technician, Japanese Beetle Trapper and/or Egg Inspector throughout the year
Temporarily supervise during certain times of the year
Minimum Qualifications
These qualifications are mandatory requirements. Any combination of ability, education, training or experience that demonstrates competence in each of the following:
With or without reasonable accommodation, physical ability to:
Stand for prolonged periods of time
Work in extreme cold and heat, wet and humid environments around dirt, fumes, poorly ventilated areas, noise and odors
Collect, lift and carry samples weighing up to 35 pounds
Intermittently bend, squat, twist and reach above shoulder level
Pass a color test
Have sufficient vision, touch and balance to perform the inspection and grading duties
Manual dexterity including the ability to toss, pull, push, lift, carry, and cut commodities
Ability to:
Follow written and verbal instructions and accurately complete time sheets and other required documentation
Write or print neatly and legibly
Verify and copy information
Perform basic math computations (add and subtract) and count accurately
Must be able to read and write in English
Within one month of hire, obtain and retain an Inspector Aide license from USDA
Within two months of hire, obtain and retain a USDA SC-200 (acquired with on-the-job training and evaluation)
SPECIALTY AREAS: These qualifications are mandatory requirements for some tasks.
Ability to collect, lift and carry heavy objectives weighting up to 50 pounds and push/pull up to 100 pounds
Ability to collect, lift and carry heavy objects weighing up to 100 pounds
Possess a valid driver's license and be able to provide proof of vehicle insurance
Within two weeks of hire, pass a vocational training course, be certified as a Forklift Operator, maintain the Forklift Operator certification and be able to operate a forklift
Basic computer skills
Supplemental Information
DESIRABLE AREAS:
These qualifications are not required, however, are desired in a candidate.
Ability to explain grading procedures to others
Demonstrated ability to identify various internal and external defects
Experience with the practices and procedures involved in handling and rotating large containers while operating a forklift
Good knowledge of:
Federal and State grading procedures and standards
Various grades and their requirements
To apply for this job, send us your resume OR Email Contact information OR call 208.238.6000 OR visit your local office OR click the 'Apply for Job' button below