Day Shift
Full Time
Long Term
No weekends
Overtime
Pay Starts: $10.50-11
Job ID: 2369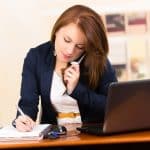 Website PersonnelPlus Personnel Plus, Inc.
Your Total Staffing Solution!
We are currently Seeking, a Front Desk Receptionist for an internal position with Personnel Plus. We are a busy staffing agency located in Fruitland Idaho.
Primary duties include answering phones and directing calls, providing customer service to clients and employees, greeting visitors, helping people through the application process, and assisting with screening employees for various jobs. Employee will need a valid driver's license and own vehicle for occasional errand running. Prefer some marketing or telemarketing experience.
Duties include all aspects of front desk, such as but not limited to;
Answering Phones; utilizing our multiple line phone system, transferring calls internally as well as externally.
Scheduling Interviews; calling applicants to schedule interviews, processing candidates for interviews over the phone and via email.
Receiving/ responding to; Fax/ Email/ Mail/ Memos
Opening or Closing the office depending on schedule
Office cleaning; Vacuuming, dusting, disinfecting
Organizing Personal Protective Equipment as needed
Assisting with office supply/ PPE inventory
Ability to read, write and speak English. (Bilingual is a plus)
Creating flyers, signs , etc
Ability to use basic computer programs; Word, Excel, Power Point, Publisher, Adobe.
Ability to use social media and navigate the internet
Scanning, printing, filling documents
Marketing
Schedule: 8:00am to 5:00pm
Pay: $11.00 /hour
Job Types: Full-time
Job Type: Full-time