Landscaping Specialist
Day Shift
Seasonal
Salary: 13.00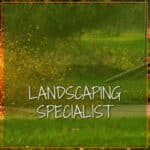 Website PersonnelPlus Personnel Plus, Inc.
Your Total Staffing Solution!
We are looking for an experienced AND motivated lawn service employee to join our landscaping team. We provide comprehensive landscaping services to businesses and residential properties. We are wanting to bring on an asset to our team.
Duties & Responsibilities Include:
Using mowers, weed eaters, and common hand tools to trim grass, edge lawns, and maintain plants and foliage
Working outdoors in all conditions while maintaining the energy and pace of coworkers and team
Operate leaf blowers and gather grass and hedge trimmings for removal
Drive a truck to various client locations and ensure the proper storage of equipment during transport
Skills & Qualifications:
Valid Drivers License and clean driving record
Be capable of lifting upwards of 50 lbs, bending, twisting, and standing for extended periods
Familiar with common landscaping equipment
Prior experience preferred but not required
Reliable and self-motivated
Why work for Personnel Plus, Inc.
As the area's largest Staffing Service, we value adding you as a member to our great team
Your application will be considered for many urgent openings
Flex pay - choose Direct Deposit, pay card, or paper check
We never charge a fee
To apply for this job, send us your resume OR Email Contact information OR call 208.453.7900 OR send a TEXT MESSAGE OR visit your local office OR click the Apply for Job button below
Trust our employment professional to be your advocate and help find that ideal position for you!