Day Shift
Full Time
Overtime
Anywhere
12.00-18.00 USD / Hour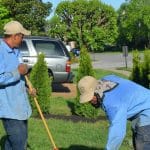 Landscaping
Personnel Plus is looking for a Landscaper position is directly responsible for the hands-on beautification of client properties . Tasks involved include lawn    maintenance, weeding, installation and caring for a variety of plants. Applicants should be hard-working, team-oriented and willing to learn. Applicants should be ready to keep up with the high-paced demands of a busy landscaping company.
Care for established lawns by mulching, aerating, weeding, grubbing and removing thatch, and trimming and edging around flower beds, walks, and walls.
Use hand tools such as shovels, rakes, pruning saws, saws, hedge and brush trimmers, and axes.
Prune and trim trees, shrubs, and hedges, using shears, pruners, or chain saws.
Gather and remove litter.
Maintain and repair tools, equipment, and structures such as buildings, greenhouses, fences, and benches, using hand and power tools.
Operate powered equipment such as mowers, tractors, twin-axle vehicles, snow blowers, chain-saws, electric clippers, sod cutters, and pruning saws.
Mow and edge lawns, using power mowers and edgers.
Mix and spray or spread fertilizers, herbicides, or insecticides onto grass, shrubs, and trees, using hand or automatic sprayers or spreaders.
Provide proper upkeep of sidewalks, driveways, parking lots, fountains, planters, burial sites, and other grounds features.
Water lawns, trees, and plants, using portable sprinkler systems, hoses, or watering cans.
Monday-Saturday
Over-time
Pay ; $12-$18 DOE
Why work for Personnel Plus, Inc.
As the area's largest Staffing Service, we value adding you as a member of our great team
Your application will be considered for many urgent openings
Apply Today - work today
Flex pay - choose Direct Deposit, pay card, or paper check
Health Benefits - Medical, Dental, Vision, Disability, Life Insurance
We never charge a fee
To apply for this job, send us your resume OR Email Contact information OR call 208.733.7300 OR send a TEXT MESSAGE OR visit your local office OR click the Apply for Job button below
Trust our employment professional to be your advocate and help find that ideal position for you!