Manual Machinist (Grinding)
Day Shift
Full Time
Temp to Hire
Salary: 17-18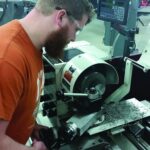 Website PersonnelPlus Personnel Plus, Inc.
Your Total Staffing Solution!
Summary:
The Manual Machinist will work with a team to fabricate tooling; meeting quality standards, using
precision equipment and accurate interpretation of advanced engineering drawings or blueprints.
Consistently follows processes and schedules independently, with periodic interaction with manager,
and others following our core values of maintaining relationships in a team environment modeling
professionalism, inter-personal skills, problem solving, adaptability, and personal value commitme
ESSENTIAL DUTIES AND RESPONSIBILITIES include the following:
 Set up work and operate a variety of machine tools to produce precision parts and instruments.
 Fabricate products and fixtures from blueprints, and part drawings, sketches, and verbal
instructions.
 Daily sharpening and flat grinding of CI components
 Perform ID and OD grinding to precise dimensions to meet tooling requirements
 Interpret correctly basic die prints and piece part prints
 Correctly use measuring equipment to produce a quality component
 Setup work on tool-room equipment
 Operate the Jig Grinder
 Square blocks to location for both CI and progressive die
 Grind appropriately for tool requirements (e.g., Center, flat, crescents, Bellville, shapes and
forms)
 Train others as needed
 Aware of workflow to meet production needs and schedules
 Other duties may be assigned.
QUALIFICATIONS
 High School diploma/GED or equivalent combination of education and experience.
 Qualified Machinist on Mill, Drill, Lathe, Grinding Equipment, Etc.
 The ability to read, write and speak the English language with comprehension skills sufficient to
understand safety standards and job performance expectations.
 Ability to add, subtract, multiply, and divide in all units of measure, using whole numbers,
common fractions, and decimals; a working knowledge of advanced mathematics, including but
not limited to trigonometry.
 Ability to interpret instructions which may be furnished in written, oral, diagram or schedule form.
 While performing the duties of this job, the employee is regularly required to stand and walk;
use hands to finger, handle, or grab; reach and pull with hands and arms. Some sitting may be
required. The employee is frequently required to lift and/or move 50 pounds and occasionally
lift and/or move up to 100 pounds. Specific vision abilities required by this job include close
vision, depth perception and the ability to adjust focus.
 While performing the duties of this job the employee is regularly exposed to noise and moving
mechanical parts, there may be air and/or skin exposure to oils and other cutting fluids.
 The noise level in the environment is moderate.
Why work for Personnel Plus, Inc.
As the area's largest Staffing Service, we value adding you as a member of our great team
Your application will be considered for many urgent openings
Apply Today - work today
Flex pay - choose Direct Deposit, pay card, or paper check
Health Benefits - Medical, Dental, Vision, Disability, Life Insurance
We never charge a fee
To apply for this job, send us your resume OR Email Contact information OR call 208.733.7300 OR send a TEXT MESSAGE OR visit your local office OR click the Apply for Job button below
Trust our employment professional to be your advocate and help find that ideal position for you!