Day Shift
Pay Starts: $18.00
Job ID: 52260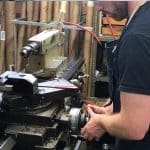 Website PersonnelPlus Personnel Plus, Inc.
Your Total Staffing Solution!
A manual machinist uses manual and machining equipment to create precision tools. Machinists usually start by reading project specifications then they create a plan for executing the project. Manual machinists draw from their vocational program training to drill and cut instruments needed to create precision metal parts and tools. Based on the scope and nature of the project, machinists decide whether to use their manual or machine tools to complete the job of crafting metal tools with precision.
Job Responsibilities
Set-up and operate Manuel lathe and /or mill
Operate a variety of shop equipment such as drill, saw, presses
Read prints, sketches and create a plan of action to complete the assigned job task.
Job Skills & Qualifications
Knowledge of shop equipment including but not limited to Lathe (Manuel), Mill (Manuel, Vertical Milling Machine, Drill Press, Hydraulic press, Band saw, Push Broaches, Differing cutting tools, and inserts.
Understand tolerance allowance and how to read prints
Understand recommended feeds and speeds for machine tools
Knowledge of how safely secure and remove holding fixtures
Knowledge of metals and understanding the mach-inability of various types of materials
Three years related machinist experience (journeymen certificate preferred) or
Trade/technical associate degree
High school diploma or GED
Basic math skills: fractions, percentage, ratios, proportions
To apply for this job, send us your resume OR Email Contact information OR call 208.678.4040 OR send a TEXT MESSAGE OR visit your local office OR click the 'Apply for Job' button below