Manufacturing Process Technician
Day Shift
Full Time
Temp to Hire
Salary: 15.00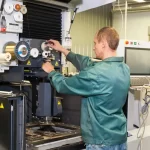 Website PersonnelPlus Personnel Plus, Inc.
Your Total Staffing Solution!
Personnel Plus of Twin Falls is looking for motivated individuals for a precision parts hardware manufacture.
The Manufacturing Process Technician (MP Technician) is a manufacturing process expert responsible for
reviewing new customer parts and processes; identifying, corrections and improvements to achieve the
desired customer result. The MP Technician creates technical training for each machine operated in the
plant to be used training new operators. The MP Technician conducts new operator orientations ensuring
proper training in the machine process training updates for process changes to all affected operators. The
MP Technician analyzes current processes identifying problems and suggesting solutions and
improvements. The MP Technician is accountable to develop a schedule of projects; desired outcomes; and
delivery dates with periodic reporting of progress and results to the supervisor. The MP Technician is a back
up to the new parts processor. The MP Technician is responsible for building and maintaining working
relationships in a team environment modeling professionalism, inter-personal skills, problem solving,
adaptability, and personal value commitment.
Essential Responsibilities:
 Review of the manufacturing process for new customer parts making changes as needed.
 Create and maintain manufacturing process manuals.
 Troubleshoot and suggest corrective actions on a timely basis, including root cause corrective
action.
 Collaborate with operators to implement effective solutions to a wide variety of production
challenges.
 Create and execute training orientation for new operators.
 Update and execute training for all operators affected by process changes.
 Maintain project reporting, periodically communicating to leadership project progress,
completions, and results.
 Act as a backup for the new products create process personnel
Qualifications:
 Associates degree in Engineering preferred.
 Experience in a manufacturing setting preferred.
 Previous experience in a Process Engineer role a plus.
 Understanding of the manufacturing process with a focus on small sheet metal and medium to
small sized CNC parts.
 Demonstrated ability to work well with limited direction and information.
 Ability to draw accurate conclusions from malfunctions, or deviations, and assist with corrections
to the existing design or process.
 Proficiency to understand and interpret basic written technical information.
 Ability to competently read, write, and speak in English.
Requirements:
Clean Background
Drug Free
Relevant work experience
Qualifications:
Professionalism: Able to follow directions, has a good work ethic, and dependable.
Inter-personal Skills: Able to work with others and maintain working relationships.
Problem Solving and Adaptability: Able to make informed decisions in an ever-changing environment.
Personal Value Commitment: Demonstrate honesty, respect for others, and adherence to company standards.
Schedule is Monday through Friday 8-5
Pay 15.00
Why work for Personnel Plus, Inc.
As the area's largest Staffing Service, we value adding you as a member to our great team
Your application will be considered for many urgent openings
Flex pay - choose Direct Deposit, pay card, or paper check
We never charge a fee
To apply for this job, send us your resume OR Email Contact information OR call 208.733.7300 OR send a TEXT MESSAGE OR visit your local office OR click the Apply for Job button below
Trust our employment professional to be your advocate and help find that ideal position for you!