Full Time
Long Term
Swing Shift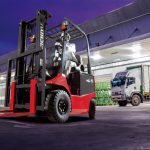 Website PersonnelPlus Personnel Plus, Inc.
Your Total Staffing Solution!
Personnel Plus is hiring a Swing shift Manufacturing Warehouse Technician in East Boise.
Join our small, dedicated, materials warehouse team. We offer an independent, relaxed work environment in a clean, modern warehouse.
Working four 10-hour shifts; M-Th from 4 pm-2:30 am (Friday, Saturday, Sunday off)
Our department's goal is to promptly, and accurately feed our manufacturing and service departments with needed supplies and manufacturing materials.
Description:
Orders are received, then accurately selected from the picklist. The parts and materials ordered are then organized on trailers, pallets, in totes, etc. for delivery to an on-campus building.
Other duties will include, but are not limited to; counting, stocking, and organizing parts and materials, inventory control, assembling and kitting air systems, general cleaning, and maintenance of facility and equipment, and other related duties. You will utilize forklifts, hand-trucks, a curtain-side box truck, and other fun equipment.
Responsibilities:
Unload inbound freight trucks using a forklift

Receive, inventory, and organize incoming freight

Receive freight ensuring all items match pack lists and purchase orders

Pull, palletize and schedule warehouse parts and materials by pick list to satisfy production needs

Load and unload warehouse delivery trucks, ensuring load matches pack lists

Drive/operate 26' ft. curtain side truck delivering materials to/from numerous campus buildings
(CDL not required)
Respond to and fulfill all inbound order requests via email, telephone, etc.
Qualifications:
MUST HAVE a valid Idaho Drivers License with a good driving record

High School Diploma, GED/HSE

1-2 years of recent experience working in a warehouse environment, or similar

Ability to maintain good employee relations within a team, be dependable and independent

Ability to plan, organize, communicate, as well as prioritize work duties and schedules

Basic computer skills, including Microsoft Word, Excel, and email

Able to lift up to 75 lbs. (team lifting is encouraged)
We offer a fun, rewarding work experience with EXCELLENT benefits. Enjoy the opportunity for advancement in a stable, innovative, and growing company!
Call now to schedule an interview 208-378-8700!