Material Control
Full Time
Part Time
Salary: 14-15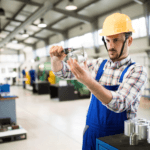 Website PersonnelPlus Personnel Plus, Inc.
Your Total Staffing Solution!
Personnel Plus of Twin Falls is Looking for an experienced person for Material Control
Opening: Materials Control – Full Time, Part Time, Flexible Schedule
Distribute, decoil, shear, and saw raw material inventory to ensure timely delivery and maintain
inventory controls, perform all Syteline job and material transactions to maintain inventory
accuracy, expert in department processes as they affect other departments and the company
ESSENTIAL DUTIES AND RESPONSIBILITIES include the following:
Read, understand, and follow directions on job orders
Use calipers and micrometers for measuring material
Pull stock of raw materials using forklifts and stationary lifting devices
Put material in proper production locations
Return raw material from production floor back into proper inventory racks
Pull, prep, and deliver rods
Setup and operate the Jet Shears and the Accushear
Safely use the belt sander for grinding rod tips
Set up and operate the band saw safely and effectively
Basic print reading abilities
Adhere to all safety rules and guidelines
Performing any required inspections and appropriate follow‐up
Determine locations for stocking new materials
Work efficiently in a high volume and fast paced environments to meet production
schedules
Work in a safe and professional manner, keep a clean work area, and wear proper
protective equipment
Train fellow team members in all areas of material preparation including safety
Unload trucks from vendors
Meet deadlines and prioritize work, as well as follow through with any given expedites
Use mathematical calculations to convert information into usable formats, such as
converting the dimensions of raw material into pounds
QUALIFICATIONS
To perform this job successfully, an individual must be able to perform each of the essential
duties satisfactorily. The requirements listed below are representative of the knowledge, skill
and/or ability required. You may be required to possess or obtain hand tools or measuring
equipment. Reasonable accommodations may be made for individuals with disabilities for
perform the essential functions.
High School diploma/GED or equivalent combination of education and experience.
The ability to read and speak English language with comprehension skills sufficient to
understand safety standards and job performance expectation. Ability to add, subtract,
multiply, and divide in all units of measure, using whole numbers, common fractions, and
decimals. Able to interpret instructions which may be furnished in written, oral, diagram or
schedule form.
Forklift certification will be required
PHYSICAL DEMANDS
The following are required: stand, use hands to feel/handle/grip, reach, pull, push, and lift with
hands and arms; walk, stoop, kneel, crouch, and reach; some sitting; lifting and/or moving 35
pounds, occasionally required to lift and/or move 75 pounds, and rarely lift and/or move up to
100 pounds. Also required close vision, depth perception and the ability to adjust focus.
Employee is required to wear steel‐toe shoes/boots, and proper hearing protection. While
performing the duties of this job the employee is regularly exposed to moving mechanical parts,
and electrical current. The noise level in is moderate to loud.
Why work for Personnel Plus, Inc.
As the area's largest Staffing Service, we value adding you as a member of our great team
Your application will be considered for many urgent openings
Apply Today - work today
Flex pay - choose Direct Deposit, pay card, or paper check
Health Benefits - Medical, Dental, Vision, Disability, Life Insurance
We never charge a fee
To apply for this job, send us your resume OR Email Contact information OR call 208.733.7300 OR send a TEXT MESSAGE OR visit your local office OR click the Apply for Job button below
Trust our employment professional to be your advocate and help find that ideal position for you!