Material Handler
Day Shift
Full Time
Part Time
Salary: 14-15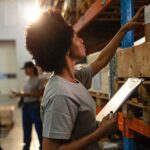 Website PersonnelPlus Personnel Plus, Inc.
Your Total Staffing Solution!
Opening: Material Handler – Full Time, Part Time, Flexible Schedule
The material handler moves dies from CI assembly to the press floor and back for CI disassembly when
complete. Uses a forklift to move material to the press floor and back ‐ when there is left over
material. Reads work orders. Knows how the DIR process. Performs production inspections for quality.
Uses precision measuring equipment. Performs machine maintenance. Reviews paperwork for
accuracy. Communicates with team members to ensure a final product meeting the customer's
specifications. (Employer will provide training for this role) The material handler is responsible for
building and maintaining working relationships in a team environment modeling professionalism, interpersonal
skills, problem solving, adaptability, and personal value commitment.
ESSENTIAL DUTIES AND RESPONSIBILITIES include the following:
Material handling
Setup and Operation of tooling, materials, and equipment for production
Know the DIR process
Reads, understands, and interprets work orders, engineering drawings and basic blueprints
Inspects paperwork for completeness and accuracy
Keep excellent production records
Uses precision measuring tools to ensure specifications and quality standards are being met
Strives to consistently improve productivity
Demonstrates skills in mechanics and mechanical procedures
Operate forklifts and stationary lifting devices
Plans the work process
Performs basic troubleshooting
QUALIFICATIONS
High School diploma/GED or equivalent combination of education and experience.
The ability to read, write and speak the English language with comprehension skills sufficient to
understand safety standards and job performance expectations.
Ability to add, subtract, multiply, and divide in all units of measure, using whole numbers,
common fractions, and decimals.
Ability to interpret instructions which may be furnished in written, oral, diagram or schedule
form.
While performing the duties of this job, the employee is required to stand; use hands to feel,
handle, or grab; reach, pull, push, and lift with hands and arms. The employee frequently is
required to walk and stoop, kneel, crouch and reach. Some sitting is required. The employee is
occasionally required to lift and/or move 65 pounds and rarely lift and/or move up to 90
pounds. Specific vision abilities required by this job include close vision, depth perception and
the ability to adjust focus. The employee is required to wear steel‐toe shoes/boots for 8 hours a
day, and hearing protection while on the press floor.
WORK ENVIRONMENT
While performing the duties of this job the employee is regularly subject to hazards, such as proximity
to moving mechanical parts, there is air and/or skin exposure to oils and noise. The noise level in the
environment is loud.
Why work for Personnel Plus, Inc.
As the area's largest Staffing Service, we value adding you as a member of our great team
Your application will be considered for many urgent openings
Apply Today - work today
Flex pay - choose Direct Deposit, pay card, or paper check
Health Benefits - Medical, Dental, Vision, Disability, Life Insurance
We never charge a fee
To apply for this job, send us your resume OR Email Contact information OR call 208.733.7300 OR send a TEXT MESSAGE OR visit your local office OR click the Apply for Job button below
Trust our employment professional to be your advocate and help find that ideal position for you!