Day Shift
Full Time
Temporary
Pay Starts: $26.63
Job ID: 110240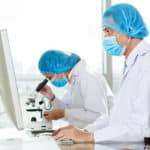 Website PersonnelPlus Personnel Plus, Inc.
Your Total Staffing Solution!
The Idaho Department of Health and Welfare, Bureau of Laboratories (IBL) is seeking a temporary Microbiologist, Principal.
Description:
This position will fill a key support role in IBL's COVID-19 response by providing support for the analysis of COVID-19 clinical samples.  The incumbent will perform laboratory accessioning, sample data entry, sample processing, routine calibrations and preventative maintenance on laboratory equipment, media and reagent preparation, bio hazardous waste disposal, and inventory and ordering of laboratory supplies.  Additionally, this position will assist in the daily supervision of  COVID-19 testing at the Idaho Bureau of Laboratories.
Minimum Qualifications:
You must possess all the minimum qualifications listed below to pass the exam for this position. Click on the Questions tab associated with this announcement for the details regarding minimum qualification requirements.
Experience implementing laboratory procedures: calibrating, operating, troubleshooting, and maintaining sophisticated laboratory equipment and instruments
Completion of the core requirements for a Bachelor's degree in Microbiology, Medical Technology, Biology, or Chemistry from an accredited college to include courses in bacteriology, immunology, and pathogenic bacteriology, and closely related classes in life sciences; AND approximately four years of journey-level supervised laboratory experience providing considerable knowledge of standard testing, quality control, safety practices, and the application of the laws and regulations relative to a microbiology laboratory
Schedule:
Monday- Friday, 8 am- 5 pm. This temporary assignment will last approximately 3 months.
Wage:
$26.63 per hour
To apply for this job, send us your resume OR Email Contact information OR call 208.378.8700 OR send a TEXT MESSAGE OR visit your local office OR click the 'Apply for Job' button below