Day Shift
Full Time
Seasonal
Pay Starts: $DOE
Job ID: BUR331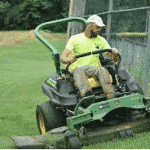 Website PersonnelPlus Personnel Plus, Inc.
Your Total Staffing Solution!
Job Description
Employee needed with experience using a commercial lawn mower, Zero Turn Mower experience. Duties include the operation of a large riding lawn mower to cut in various parks and public areas. Operator must be able to get and off mower frequently to pickup garbage and move picnic tables. Also responsible for daily maintenance and cleaning of the mower. Position is typically From April to October depending on weather and grass growth. Average of 40 hours per. week.
Duties & Responsibilities:
The following duties are normal for this position. These are not to be construed as exclusive or all-inclusive and other duties may be required and assigned.
Ability to operate a large riding mower.
Ability to get on off mower frequently to pick up garbage and move picnic table.
 Responsible for daily maintenance and cleaning of mower.
Able to work with little or no direct supervision.
Ability to process and follow morning work list throughout the day
Other duties as assigned.
Knowledge, Skills & Abilities:
Be able to work independently with or no supervision.
Ability to lift and maneuver 50 to 75 ponds.
Ability to perform heavy manual labor involving occasional bedding, lifting stooping and climbing.
Ability to operate vehicles, lawn mowers, string trimmers, and various tools.
Ability to tolerate working in varying weather conditions.
Desirable Training and Experience:
Knowledge and skills in park and public lands maintenance.
Ability to operate large riding mower.