Day Shift
Full Time
Graveyard Shift
Long Term
Overtime
Temp to Hire
17.00 USD / Hour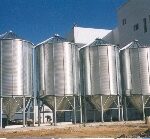 Now Hiring! Liberty Basin
Department: Liberty Basin
This Position reports to the Operations Manager and the Shift Leads for Liberty Basin.
Key Responsibilities:
Load/unload trucks and train cars, and route products to appropriate locations.
Unload train cars of feed products.
Assist with inventory control.
Operate various types of machinery and equipment such as front-end loaders, grain elevators,
mixers, grinders, and conveyance equipment.
Clean and maintain the facility, including sweeping, dusting, and other.
Responsible for performing tasks relating to preventive maintenance and unscheduled repairs.
Maintain quality, safety, and production standards.
Follow all safety procedures and protocols to ensure a safe working environment.
Maintain accurate and detailed production records.
Provide backup support for other roles as necessary.
Available for overtime work on a scheduled or call-in basis, as necessary.
Other duties as assigned.
Qualifications and Education Requirements:
A high school diploma or an equivalent combination of education and experience.
Ability to manage multiple tasks and prioritize effectively.
Strong communication skills to collaborate with team members.
Perform physically demanding tasks, including heavy lifting, bending, and standing for extended
periods.
Safely operate all machinery.
Able to work on a time deadline and follow instructions.
Perform critical thinking and troubleshooting.
Write clearly and legibly to keep detailed and accurate records.
Flexibility to work varying shifts as needed, including weekends and holidays.
Working Conditions:
Work inside and outside of facilities that require personal protective equipment.
Work on and around mobile equipment and moving machinery.
Work with feed products.
Education/Experience:
High school diploma or equivalency
(No felonies )
FLSA Classification: Non-Exempt
This job description is not an exhaustive list of all functions an employee may be required to perform, and the employer
may require an employee to perform additional functions as assigned. The employer reserves the right to revise this
job description.
Why work for Personnel Plus, Inc.
As the area's largest Staffing Service, we value adding you as a member of our great team
Your application will be considered for many urgent openings
Apply Today - work today
Flex pay - choose Direct Deposit, pay card, or paper check
Health Benefits - Medical, Dental, Vision, Disability, Life Insurance
We never charge a fee
To apply for this job, send us your resume OR Email Contact information OR call 208.678.4040 OR send a TEXT MESSAGE OR visit your local office OR click the Apply for Job button below
Trust our employment professional to be your advocate and help find that ideal position for you!