Day Shift
Seasonal
15.00 USD / Hour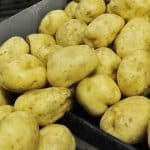 Now Hiring! Inspectors American Falls
This position is primarily responsible for the removal of any debris, foreign material, and rotten, green, or out-of-specification (high peel) potatoes. Must be okay with standing in one place at a time and visually inspecting the line. If there are any defects in the product, they must be removed.
REQUIREMENTS:
1. Lift up to 35 pounds properly.
2. Work in an outside environment in varied conditions.
3. Stand for long periods of time and be mobile.
4. Differentiate color. (Not color blind)
5. Work around noise, dirt, odors, dust chemicals, fumes, and in poorly ventilated areas.
6. Work around potential mechanical hazards such as machinery, conveyor belts, chains, and forklifts.
7. Work around icy, slippery, muddy, uneven flooring and surfaces.
8. May operate forklifts and/or skid steers.
Why work for Personnel Plus, Inc.
As the area's largest Staffing Service, we value adding you as a member of our great team
Your application will be considered for many urgent openings
Apply Today - work today
Flex pay - choose Direct Deposit, pay card, or paper check
Health Benefits - Medical, Dental, Vision, Disability, Life Insurance
We never charge a fee
To apply for this job, send us your resume OR Email Contact information OR call 208.678.4040 OR send a TEXT MESSAGE OR visit your local office OR click the Apply for Job button below
Trust our employment professional to be your advocate and help find that ideal position for you!