Day Shift
Graveyard Shift
17.50 USD / Hour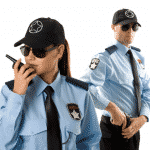 On-Call Security Guard
We are looking for an On-Call security guard to help maintain the security of the company's building and staff. You will be required to regularly inspect the environment, log in visitors and monitor the gates. Your contribution will help maintain a safe environment and peace of mind for employees and staff who work at the premises.
This position pays $17.50-$19.50Hr.
Will be on-call for call-ins, vacation, and sick days 12 hr. shift either days or graveyard., which can lead to full time.
 Responsibilities
Look after the company property and staff members by maintaining their safety.
Maintain a log of the visitors and guests.
Regularly inspect the perimeters of the building and the different exits and entrances.
Watch out for any illegal or criminal activity.
Act following the law and security regulations in case of an emergency.
Monitor the vehicles entering the building and take note of vehicles belonging to employees and visitors.
Review security footage regularly and ensure cameras are functional at all times.
Check the functioning of alarms, sprinklers, and other security equipment.
Take accounts of unusual occurrences and make reports.
Requirements
Prior experience with security and relevant roles.
Strong knowledge of security procedures and protocols.
Excellent ability to operate emergency equipment and detection systems.
Work with dedication and integrity.
A keen eye for detail and surveillance.
Why work for Personnel Plus, Inc.
As the area's largest Staffing Service, we value adding you as a member of our great team
Your application will be considered for many urgent openings
Apply Today - work today
Flex pay - choose Direct Deposit, pay card, or paper check
Health Benefits - Medical, Dental, Vision, Disability, Life Insurance
We never charge a fee
To apply for this job, send us your resume OR Email Contact information OR call 208.678.4040 OR send a TEXT MESSAGE OR visit your local office OR click the Apply for Job button below
Trust our employment professional to be your advocate and help find that ideal position for you!