Day Shift
Full Time
Seasonal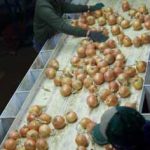 Website PersonnelPlus Personnel Plus, Inc.
Your Total Staffing Solution
Sorters: Sorters 6-8 people needed! Employees will be working inside the packaging shed; sorting onions by size and quality such as removing onions with serious visible decay or any problem that makes the onion unusable even for a processor. This job also requires that you sort out/remove any foreign material. Examples of foreign materials are: boards, sticks, broken field machinery parts, rocks, dirt clods, grass, weeds, plastic items and glass of any kind This is a fast pace position that requires you to be able to stand for long periods of time while watching a conveyer belt with onions moving consistently.
Pay: $9.50 Hours: will vary this week at 40 +/- and next week will be ramp up with overtime and should last until October. There will be some that will carry on to our west facility for the packing season which will last till March/April.
Schedule: 8am -6pm and sometimes 8pm. Two 15 minute breaks,1/2 hour lunch and we have a large break room and a smoking area outside. *On Fridays it is a 1 hour lunch.