Day Shift
Full Time
Graveyard Shift
Rotating Shifts
Temp to Hire
16 USD / Hour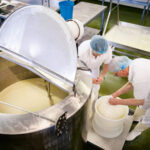 Production Operators
Personnel Plus is HIRING Dairy Packaging Operator in Jerome, ID.
Day shift and night shift
Full time
$16 an hour
Duties:
Learn and understand the basic function and operation of all packaging equipment
Perform each and all packaging line operations
Rotate into various line positions when required
Ensure that packaging specifications, requirements and standards for are met
Report quality and production issues to the supervisor
Communicate with the operator you are relieving to gain knowledge of the present state of the equipment and production run
Review previous shift paperwork/labels and follow the set production schedules closely
Assure that we have taken all necessary samples of finished and ingredient products
Assist with the metal detector checks at the start of every shift as needed
Stage all necessities (totes, bags, pallets, sked sheets, placards, pen, marker, whirl-packs, spoons) that are needed for your shift
Assist in assuring that all pallets of products, after each run, are taken out of the tote room and are placarded accurately as needed
Make sure packaging room necessities (bags, broom, whirl-packs, paperwork, vacuum cleaner and utensils) are stored neatly in their assigned places. (Nothing on floor)
Maintain daily sanitation schedule
Monitor various aspects of the bagging system to assure it is running smoothly and not backing up. Periodically check for bagging or product quality issues and communicate any findings with supervisor immediately.
Ensure all bags are stacked neatly and inside of the pallet at all times
Requirements:
Must be able to lift 50 pounds
Must be able to stand and walk for long periods
Previous machine operator experience or equivalent skills
Must be able to climb or balance, stoop, kneel, crouch or crawl
High School diploma or GED
Why work for Personnel Plus, Inc.
As the area's largest Staffing Service, we value adding you as a member of our great team
Your application will be considered for many urgent openings
Apply Today - work today
Flex pay - choose Direct Deposit, pay card, or paper check
Health Benefits - Medical, Dental, Vision, Disability, Life Insurance
We never charge a fee
To apply for this job, send us your resume OR Email Contact information OR call 208.733.7300 OR send a TEXT MESSAGE OR visit your local office OR click the Apply for Job button below
Trust our employment professional to be your advocate and help find that ideal position for you!