Day Shift
Full Time
Graveyard Shift
Long Term
Overtime
Temp to Hire
Pay Starts: $15.00
Job ID: 74512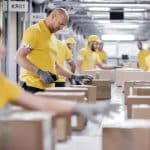 Website PersonnelPlus Personnel Plus, Inc.
Your Total Staffing Solution!
Job Title: Packer/Operator
Position Summary:
Under the direction of the Production Supervisor and designated Shift Leads, this position is responsible for all aspects of packing finished plastic bags from the bag line into cartons and prepares them for shipping in order to safely produce high-quality bags in accordance with the job safety analyses (JSA's), production schedule, set-up instructions, operating procedures, and quality specifications, etc.
Essential Functions & Key Responsibilities:
Understand and follow all JSA's and safety procedures/policies
Forms cartons and applies proper box label
Constantly inspects finished product before it is packed into carton and notifies bag line operator of quality issues
Weighs and numbers cases, fills out proper documentation
Stacks finished product on pallet evenly and correctly
Assists Converting Operator in all roll changes
Checks all safety guards are in place and properly working at their station
Performs quality checks and completes related documentation
Maintains a clean and safe work area
Assists Converting Operator as assigned
Other duties and responsibilities may include:
Setup and operate bag machine(s) and support equipment to convert HDPE film into bags
Read and verify line orders/dockets
Understand printing job requirements by the specifications
Set up the bag line by loading film and adjusting for size
Mount cylinders, adjust pressure, tension and  distribution of ink
Troubleshoot stoppages and breakdowns
Perform quality checks of material being produced and complete related documentation
Complete daily production paperwork
Maintain a clean and safe work area
Candidate Requirements:
High School diploma or equivalent
Eligible to work in the United States
Successful completion of pre-employment background and drug screen
Ability to work 12 hour day and night rotating shifts
Work overtime as required
Satisfactorily complete training courses as determined by management
Ability to perform the essential functions of the job with our without accommodation
Physical Demands:
Requirements include, but are not limited to
Sitting (1-2 hours)
Standing (Constantly – 12 hours or more)
Walking (Constantly – 12 hours or more)
Lifting (Regularly/Constantly):

0-10 lbs. (8-10 hours)
10-20 lbs. (8-10 hours)
20-50 lbs. (8-10 hours)
50-100 lbs. (never)

Carrying:

10-20 lbs. (8-10 hours)
20-50 lbs. (8-10 hours)
50-100 lbs. (never)

Pushing (Often – 8-10 hours or more)
Pulling, Twisting, Climbing (Often – 8-10 hours or more)
Balancing (Regularly/Constantly)
Stooping, Kneeling, Crawling (Often – each 1-3 hours)
Reaching, Grasping, Repetitive Motions (Regularly/Constantly each 8-10 hours)
Hours: Rotating 12 hr shifts
Pay $15.00
To apply for this job, send us your resume OR Email Contact information OR call 208.733.7300 OR send a TEXT MESSAGE OR visit your local office OR click the 'Apply for Job' button below