Parks Ground keepers and Maintenace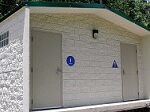 Website PersonnelPlus Personnel Plus, Inc.
Your Total Staffing Solution!
Starting pay $13.00
6 am-2:30 pm
20-35hr week
Seasonal April-October
DAILY DUTIES for PARKS GROUNDS KEEPERS
Pick up trash throughout parks, restrooms and shelters, this also includes in and around the baseball field.
Check all the garbage cans in park and remove the full ones through the Service Center gate and replace with empty ones.
Restrooms, clean toilets, urinals and sinks. While cleaning check for leaks or other damage to the facilities and report it to the foremen or the lead maintenance person.
Make sure toilet paper and paper towel dispenser are full.
Sweep out picnic shelters and wash down picnic tables if necessary.
While making your rounds in the park check to see if there's picnic tables, playground equipment that are in need of repair. And if there is report it to the foreman or the lead maintenance person. .

You will be asked to do duties beyond those listed above that will be required to help maintain the parks.
You will be asked to paint shelter, restroom facilities, do graffiti removal etc.
You will be asked to make minor repairs, such as fixing picnic tables, repairing playground equipment etc.
OTHER REQUIREMENTS
Applicants must possess a valid State of Idaho Drivers License, and have a satisfactory record.
Applicant must be able to lift and carry heavy materials, perform sustained strenuous manual labor, climb, crawl, and stoop to reach work area.
Applicant must be willing to work outdoors in all inclement of weather.
Applicants applying for this position will be asked to clean restroom facilities that get severely disgusting at times.
Why work for Personnel Plus, Inc.
As the area's largest Staffing Service, we value adding you as a member of our great team
Your application will be considered for many urgent openings
Apply Today - work today
Flex pay - choose Direct Deposit, pay card, or paper check
Health Benefits - Medical, Dental, Vision, Disability, Life Insurance
We never charge a fee
To apply for this job, send us your resume OR Email Contact information OR call 208.678.4040 OR send a TEXT MESSAGE OR visit your local office OR click the Apply for Job button below
Trust our employment professional to be your advocate and help find that ideal position for you!