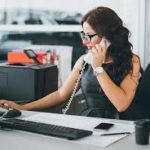 Website PersonnelPlus Personnel Plus, Inc.
Your total staffing solution
Permit Desk- Administrative Clerk for County office $11.00 p/h
Immediate opening and is expected to last 8-months.
Primary Responsibilities:
Include greeting the public, answering phone inquiries, processing permits, updating bonding/insurance information for contractors, scanning documents, and entering data.
Responsibilities:
Performs a variety of customer service, dispatch, administrative, and clerical tasks.
Greets and directs visitors and answers incoming calls to provide information and responses to public inquiries concerning services, programs, work being performed, and District activities.
Maintains files and a variety of electronic records, logs, spreadsheets and other information.
Performs support duties that may include creating work orders, preparing memos and presentations, petty cash, purchase orders, inventory use, training requests, preparing reports, collecting and accounting for fees, issuing permits, etc.
Processes applications, information or other documents (reviews for completion, verifies accuracy of information, distributes to appropriate persons, etc.).
Operates copiers and printers to support office management and information distribution.
Qualifications:
Experience with office and business processes including filing systems, record keeping and retention, and report generation.
Experience with operation of PCs and various software applications including Word, Excel, Outlook, Internet, and databases.
Ability to communicate effectively by phone, in person, and in writing; able to compose business communications utilizing the rules of effective English usage.
Ability to respond to public inquiries in a professional and courteous manner.
Good knowledge of business mathematics and routine accounting practices; general office practices, procedures, and equipment.
Please submit resume for immediate consideration to bhubbard@personnel.com